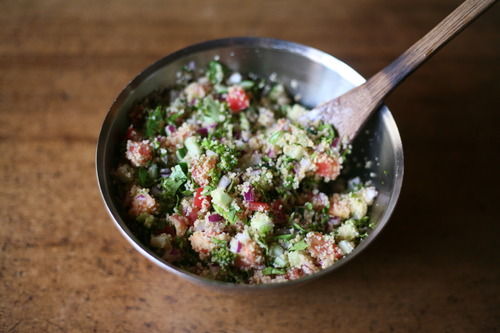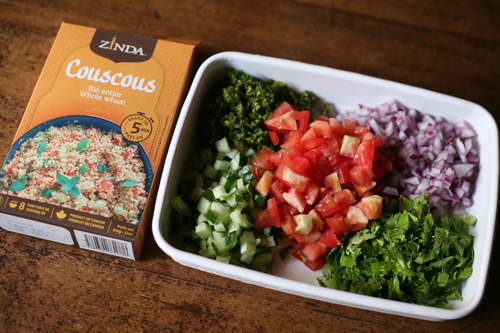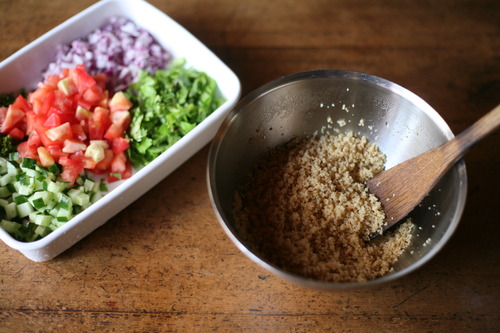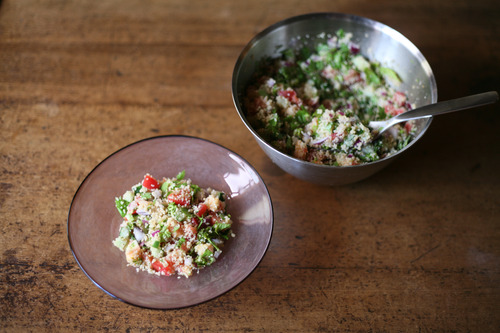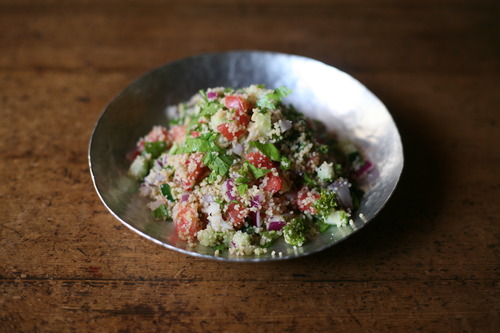 [French Salad Called "Taboulé"]
In France, there is a perfect summer dish called "taboulé." This dish, which is also a national favorite in France, has its origins in the Middle East and surrounding areas. The relationship between France and the Middle East has always been deep, and the culinary cultures of the two countries influenced each other. Taboulé was introduced to France from the Middle East and eventually became popular among all people.
Taboulé is a salad consisting mainly of finely chopped, parsley-like, aromatic leafy vegetables and bulgur (dried wheat that has been boiled in hot water). Tomatoes, mint, and onions are also added and seasoned with olive oil, lemon juice, salt, and sweet chilies.
When this came to France, bulgur was replaced with couscous, the world's smallest pasta, which was easier to obtain. Today in French supermarkets and delicatessens, you can find various varieties of taboulé neatly arranged on the shelves, and it is commonly regarded as a French dish. Taboulé is a taste of mother's cooking for French people, and it can be easily prepared using ingredients available in Japanese supermarkets. Serve it in your favorite container and enjoy the taste loved in the Middle East, France, and around the world.
During this time of the year when your body is feeling a little tired from the lingering summer heat, why not try this vegetable-filled taboulé to revitalize your energy? The acidity of the lemon and the flavor of the savory vegetables will enhance the taste of this refreshing salad.
Ingredients (2-3 servings):
2/3 cup couscous
1 tablespoon olive oil
Slightly less than 1/2 cup hot water
*For the Salad
1 tomato
1/2 cucumber
1 bunch of parsley (you can also use Italian parsley, cilantro, celery, etc.)
1/2 purple onion (or regular onion)
*Seasoning
Slightly less than 1/2 teaspoon salt
A pinch of black pepper
1 tablespoon olive oil
Slightly less than 1 tablespoon lemon juice
*Optional
White wine vinegar
Hot sauce
Instructions:
1. Place the couscous in a bowl and season it with salt, black pepper, and olive oil.
2. Pour hot water over the couscous, stir lightly, cover, and let it steam for about 10 minutes.
3. Finely chop the purple onion, dice the tomato and cucumber into small pieces, and mince the parsley (you can use parsley or celery leaves for this).
4. Fluff the steamed couscous with a fork and mix it with the chopped vegetables from step 3 in a bowl.
5. Add the seasoning ingredients from step 4 and mix well. Optionally, you can drizzle some white wine vinegar or hot sauce on top before serving. Enjoy!
Sori Yanagi's Stainless Steel Bowl
https://www.shokunin.com/en/yanagisori/bowl.html
Okubo House Mokkosha's Cooking Spoon
https://www.shokunin.com/en/okubo/saji.html
fresco kasumi bowl S
https://www.shokunin.com/en/fresco/kasumibowl.html
Otera Kohachiro Shoten's Kanamari
https://www.shokunin.com/en/otera/kanamari.html
References
https://ja.wikipedia.org/wiki/%E3%82%BF%E3%83%83%E3%83%96%E3%83%BC%E3%83%AC
https://ja.wikipedia.org/wiki/%E3%83%96%E3%83%AB%E3%82%B0%E3%83%AB
https://www.olive-hitomawashi.com/column/2020/11/post-12056.html
https://recipe.tirakita.com/recipe/451/%E3%82%AF%E3%82%B9%E3%82%AF%E3%82%B9%E3%81%AE%E3%82%BF%E3%83%96%E3%83%AC
(Reference Recipe)