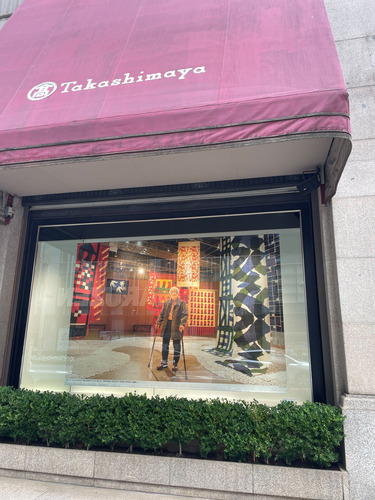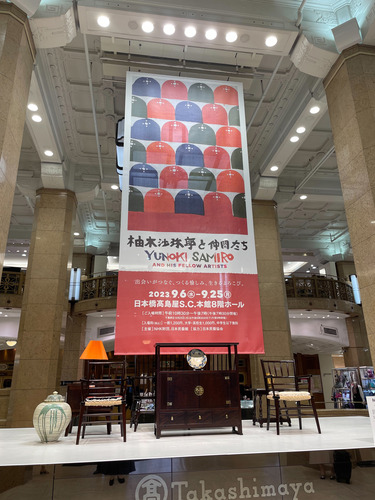 [Samiro Yunoki and His Friends]
An exhibition featuring Mr. Yunoki and his contemporaries, who are filled with the desire to make people's lives today healthy and comfortable, is currently taking place at Nihonbashi Takashimaya. Mr. Samiro Yunoki, who is still actively involved in dyeing at the age of 100, humbly states, "I've been fortunate to live a long life, but there are other deserving friends who have worked alongside me." He even hesitated to include his own name in the exhibition title. Of particular note were the works of ceramic artist Seijiro Takeuchi and woodcarver Kenji Funaki, who passionately discussed folk art and had a familial relationship. Additionally, the friends who gathered in the "Moegikai" group, formed around Mr. Yunoki Samiro's teacher, dyer Kesuke Serizawa, are also introduced.
This exhibition also featured an introduction to how Mr. Yunoki's dyed fabrics and folk art have been used in everyday life. They incorporated the traditional technique of resist dyeing, known as "shibori," which allows for mass production of fabrics without distinguishing between the front and back. These shibori fabrics were created with the fundamental principles of making "fabrics that people want to use," "prioritizing utility," and "serving essential needs in daily life." The exhibition includes clothing made by housewives using shibori fabrics, some of which were sewn by Mr. Yunoki's own relatives and displayed after a long time in storage. Regardless of the style, these clothes still excite with their vibrant colors and patterns, offering a sense of empowerment.
In the Yunoki family's dining corner, you can also find various items such as tableware, teacups, and clay pots that Mr. Yunoki uses in his daily life. It's a delightful exhibition that invites you to enjoy the items while imagining their stories, and you may find yourself engrossed. It made me appreciate the luxury of using items that hold personal meaning and have their own stories, living life with care and attention.
In addition to the venue, the Takashimaya storefront window also features a lovely photograph of Mr. Yunoki, who is 100 years old, along with heartwarming messages. Amidst the bustling streets of Nihonbashi, you may find yourself standing still, gazing at them unintentionally. At Shokunin.com, we also introduce many carefully crafted items and tools that you would cherish in your daily life. We invite you to visit along with the Ginza Showroom.
Ginza Showroom
https://www.shokunin.com/en/showroom/ginza.html
Siwa's Screen Printing
https://www.shokunin.com/en/siwa/yunoki.html
References
https://www.takashimaya.co.jp/store/special/yunokisamiro/
https://artexhibition.jp/topics/news/20230709-AEJ1439416/