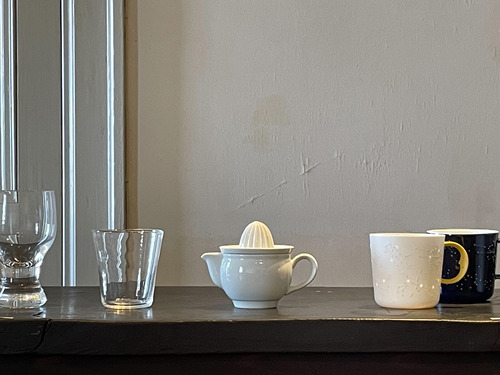 [Azmaya's Juicer]
Azmaya's Juicer, a highly popular item, is produced in limited quantities, averaging around 50 units per month, and there are times when it is not available for over six months due to timing constraints. We are pleased to inform you that we recently received a shipment of approximately 40 units after a gap of several years.
This juicer is crafted using Amakusa porcelain stone from Kumamoto, known for its Hasami-yaki style. The distinctive feature of this juicer is the raised mound designed for pressing half-cut fruits. It is elegantly tall and rounded, ensuring a remarkably sharp performance, allowing you to effortlessly squeeze every last drop of juice. It is perfect for making freshly squeezed lemonade or creating dressings.
While you can certainly make your purchase online, we also invite you to visit our showrooms in Otaru, Wakamatsu, and Imadegawa, where you can personally handle and inspect Azmaya's Juicer.
Azmaya's Juicer
https://www.shokunin.com/en/azmaya/juicer.html
Showroom Information
https://www.shokunin.com/en/showroom/