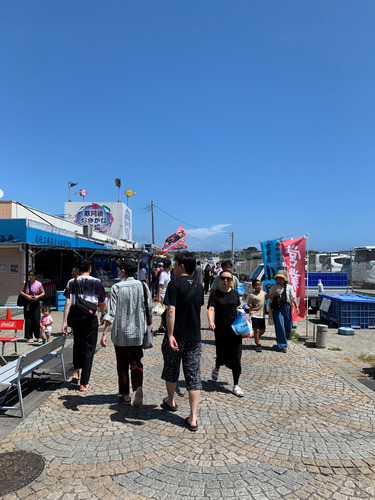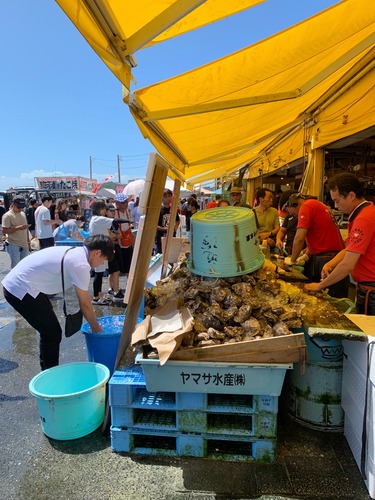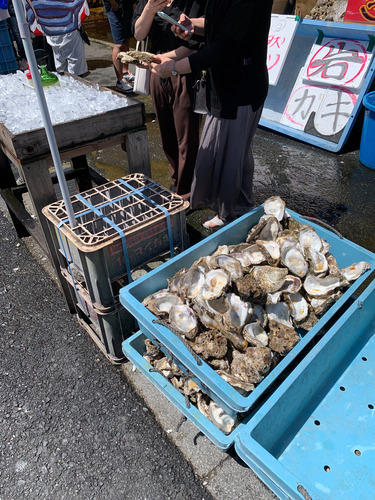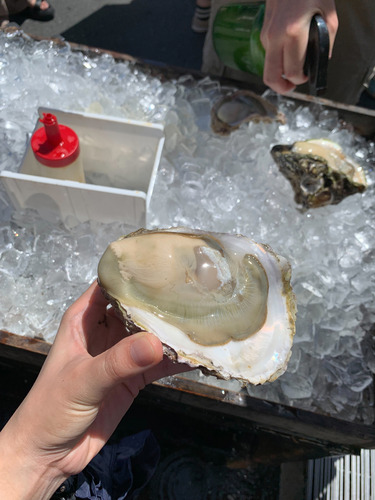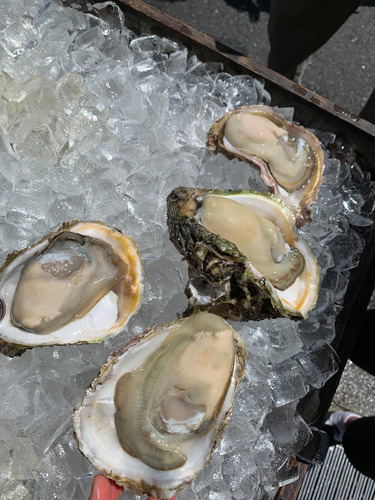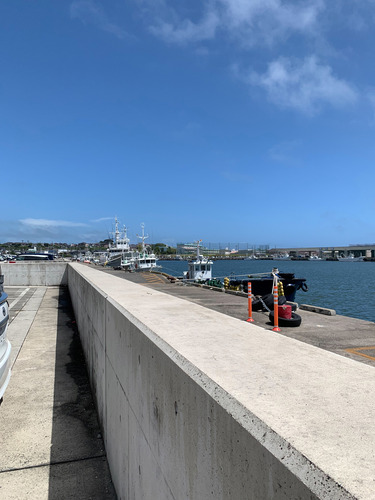 [Iwagaki Oysters at Nakaminato Osakana Market]
Iwagaki oysters are in season in summer. Oysters have a strong image of winter, but that is only true of a type of oyster called the Magaki oyster. Iwagaki oysters eaten in summer are large, resilient, and perfect for eating raw.
There are two main types of oysters distributed in Japan: the Magaki oyster, which is in season from November to April in winter, and the Iwagaki oyster, which is in season from June to September in summer. There are differences in the way they grow, where they come from, and how they taste, but the most notable difference is their size. The Iwagaki oyster is large and hearty, with a large shell that is as rugged as a rock (iwa).
The Nakaminato Osakana Market in Hitachinaka City, Ibaraki Prefecture, is a tourist market where seafood stores and eateries line a 300-meter straight line in front of the Nakaminato fishing port. The market sells freshly caught seafood of the day at conscientious prices and attracts about one million visitors a year. When I was researching this market, I was in the middle of the Ibaraki Iwagaki oyster season during the Bon Festival. Knowing this, I had no choice but to drive about two hours from Tokyo to visit.
Even though we arrived in the morning, the market was already bustling with people. First, we went to "Ichiba Sushi," a conveyor-belt sushi restaurant in the market that is famous for its fresh and large fish at a reasonable price, to fill up our stomachs. Walking around the market, we saw many signs for oysters alone, but since we had come all the way here and did not want to leave anything to regret, we decided to try the Iwagaki oysters, which had words like "superlative," "natural," and "extra large" lined up in a row that made them look amazing. At the storefront, there was a pile of oyster shells that had been put in by people who had finished eating them, glistening in the sunlight.
When you order your Iwagaki oysters, they shuck them on the spot, carefully wash them under running water, and hand them to you. After pouring a little lemon and ponzu (Japanese sauce made from citrus juice and citrus juice) on the ice-covered table, it is time to eat the oyster. Before eating the oyster again, I wondered if I would be able to eat it in one bite, but I was determined not to miss out on even a drop of the umami, so I tilted the shell vigorously and slid the oyster into my mouth. The moment I bite into the oyster, I am filled with the aroma of the sea, and the oyster's creamy, yet refreshing flavor is unmistakably oyster. The oysters were creamy, yet tasty, as one would expect from oysters. It was cold, big, and in one bite, it was like an ocean spreading in my mouth. I swallowed it down thinking it was too good to be gone.
Nakaminato Osakana Market is also famous for its dried anglerfish and yariki squid, but the natural Iwagaki oysters are a must-try. It is very rare to find a place in the Kanto region where you can taste fresh oysters, so if you are ever in the area, please visit.
Nakaminato Osakana Market
http://www.nakaminato-osakanaichiba.jp/
Showroom Information
https://www.shokunin.com/jp/showroom/
Reference materials
https://www.city.hitachinaka.lg.jp/business/kankoshinko/1002713/1002719.html
https://www.knt.co.jp/goto/miryoku/kanto/bimi002.html
https://travel.navitime.com/ja/area/jp/spot/02301-2900416/
http://www.oarai-kaisen.com/ichiba/season/summer/index.html
https://www.ibaraki-shokusai.net/brand/iwagaki/
https://uopochi.jp/info/faq/kaki-shun/