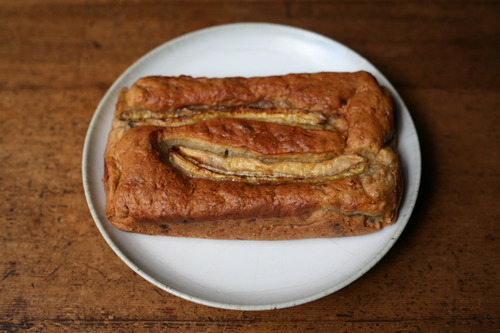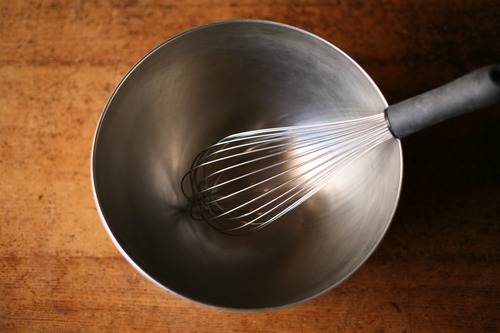 [Banana Bread]
Bananas, with their high sugar content and sweetness, are a relatively fast-growing fruit. I am sure many of you have had the experience of accidentally misjudging the timing of eating a banana and finding it overripe. This was the case with me last night when I noticed that my bananas had become surprisingly soft.
Four bananas. No time to relax, as I definitely do not want them to get any softer. I thought about smoothies and pancakes, but what I found in my search for a recipe that would use up everything at once was "banana bread" using four bananas.
Banana bread is a type of bread made with mashed bananas that became a cookbook staple in the United States in the 1930s with the spread of baking soda and baking powder. Mashed bananas are mixed with flour, baking powder, sugar, butter, and eggs, and baked in the oven to create a moist, sweet, cake-like banana bread.
Just right for mashing bananas in a bowl is a Sori Yanagi Whisk. It has more wires than a regular whisk, so you can mash bananas in a relatively short time. I don't have a pound mold used for baking cakes, so I used a Noda Horo Rectangle Deep L lined with a cookie sheet as a mold. Banana bread using super-ripe bananas has a moist and sticky texture and looks good as a snack or breakfast. I added a little coconut milk that I had leftover in the fridge, so the aroma was also impressive, reminiscent of Asian sweets.
Bananas have gone soft! If that's the case, try making banana bread.
Sori Yanagi's Whisk
https://www.shokunin.com/en/yanagisori/awadate.html
Sori Yanagi's Stainless Steel Bowl 23cm
https://www.shokunin.com/en/yanagisori/bowl.html
Noda Horo's Rectangle Deep L with a Lid
https://www.shokunin.com/en/noda/
Seiryugama's Plate
https://www.shokunin.com/en/seiryu/hirazara.html
References
https://oceans-nadia.com/user/33088/recipe/272676
(reference recipe)
https://ja.wikipedia.org/wiki/%E3%83%90%E3%83%8A%E3%83%8A%E3%83%96%E3%83%AC%E3%83%83%E3%83%89
https://gourmet-note.jp/posts/22972