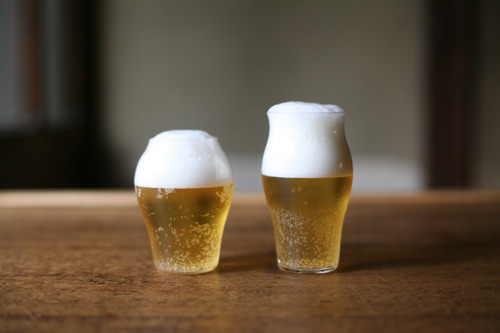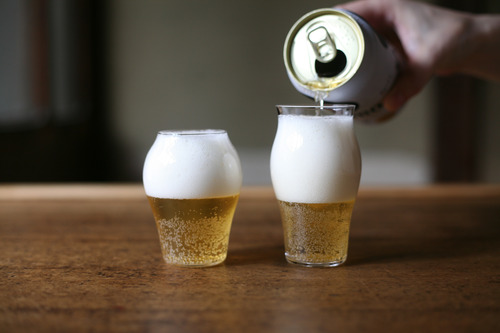 [Beer for Two]
In Japan, the standard sizes for canned beer are 350 ml and 500 ml. This sizing originated from the introduction of can-making machinery from the United States and the acquisition of manufacturing techniques. At that time, the predominant can sizes in the United States were 12 ounces (355 ml) and 16 ounces (474 ml). To align with these sizes, Japan adopted the nearly equivalent 350 ml and 500 ml can sizes. This decision largely influenced the current standard sizes of canned beer.
During the lingering summer heat, many of us seek refreshment at the end of a hot day with a can of beer, sometimes sharing it with someone else. When you want to enjoy a small can of beer with someone, we recommend Hirota Glass's Ultimate Sake Glass.
Yes, a Japanese sake glass for beer? Well, it's perfect for those moments when you're sharing a 350 ml beer with someone, just like having a little extra. As you savor your beer from this glass, you might be reminded of the classic jazz standard "Tea for Two." "Just tea for two and two for tea. Just me for you, and you for me alone." When you fill this glass with beer for two, you can relish a delightful "Beer for Two."
The Ultimate Sake Glass is a special creation by experts in both alcohol and glass. It consists of two different-shaped glasses designed to enhance the flavors and aromas. Why not savor the differences while tasting your beer in these unique glasses?
Hirota Glass's Ultimate Sake Glass
https://www.shokunin.com/en/hirota/nihonshu.html
Tea for Two
https://www.youtube.com/watch?v=M5l7juyUxRo
References
https://www.asahibeer.co.jp/customer/post-158.html
https://www.worldfolksong.com/jazz/tea.htm