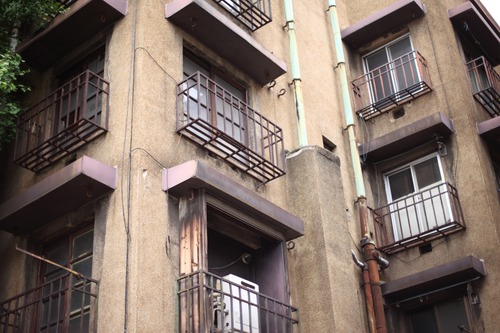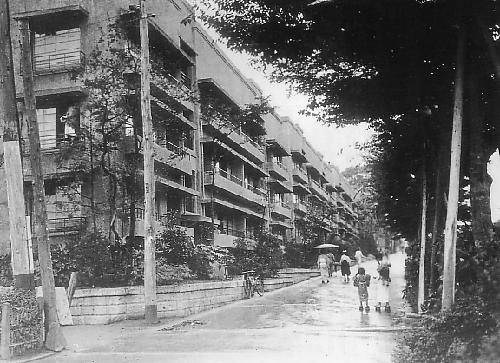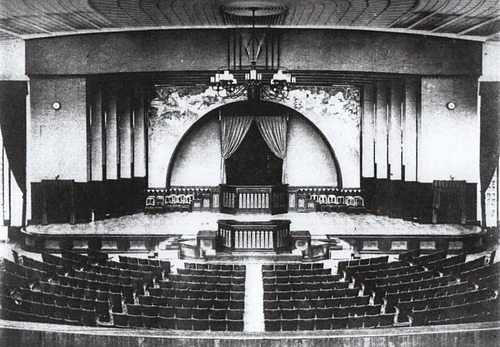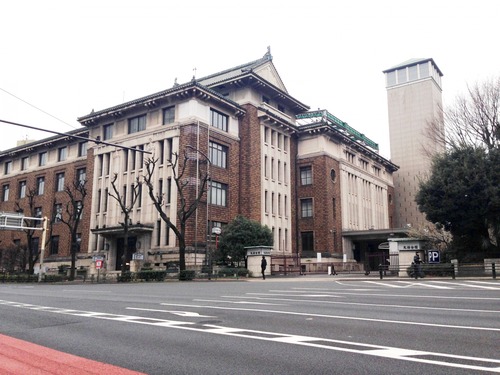 [Dojunkai Apartments]
The Dojunkai Apartments, constructed as post-earthquake reconstruction housing after the Great Kanto Earthquake, represent Japan's earliest examples of modern reinforced concrete fireproof apartments. The construction was overseen by the Dojunkai Foundation, which was established by the Ministry of Home Affairs in 1924 to support post-disaster recovery. The name "Dojunkai" is derived from a line in ancient Chinese literature, "淋同江海之潤," meaning "to generously enrich the common people." Until its dissolution in 1933, the Dojunkai Foundation built collective housing complexes in 16 locations across Tokyo and Yokohama. These apartments were equipped with amenities such as gas, water, and flush toilets, embodying progressive rental housing tailored to each local area and proposing a new way of life.
For instance, the Toranomon Apartment, built in the business district, was a combination of office and apartment spaces. The lower levels were used as Dojunkai's offices, while the upper floors were dedicated to single men's apartments. The building included dining halls and baths, and its grand entrance and spiral staircase were perfectly suited for businessmen. The Aoyama Apartment was constructed on Omotesando Avenue, targeting urban professionals. To maintain a sense of sanctity on the sacred avenue, measures were taken to conceal laundry and communal baths were provided on each floor. The charming appearance contributed to the cityscape and the building later served as boutiques and galleries, ultimately making way for Omotesando Hills. Additionally, the Otsuka Women's Apartment garnered attention as a cutting-edge residence for working women, a growing demographic at the time. Complete with elevators, dining areas, communal baths, lounges, laundry rooms, and sunrooms, it became popular among independent modern women like typists, teachers, and doctors. While all 16 of these apartments have since been demolished, the architects associated with the Dojunkai have engaged in various subsequent architectural endeavors.
Former director Yoshikazu Uchida, alongside his disciple Hideto Kishida, contributed to the reconstruction of the Tokyo Imperial University campus post-earthquake. They designed notable buildings such as the University of Tokyo's Yasuda Auditorium. The Gothic-inspired powerful design remains a symbol of the university to this day. Former construction department head Ryoichi Kawamoto, who worked on projects like the Toranomon Apartment, contributed to the Kudan Kaikan and Okuno Building designs. The Kudan Kaikan, initially named "Gunjin Kaikan," was used as lodgings and a hall for military personnel and later became a concert hall and wedding venue upon being renamed Kudan Kaikan. Its Japanese-inspired design with castle-like roofs, incorporating Art Deco elements at key points, is a symbolic presence in the Kudanshita landscape. The Okuno Building, previously known as the "Ginza Apartment," was a luxury apartment complex. Similar to the Dojunkai Apartments, it was reinforced concrete and featured communal baths, lounges, elevators, and even telephone lines in each room. Today, while retaining its exterior, elevators, stairwells, and corridors, the building houses numerous ateliers and galleries. Our store, too, has a showroom within the Okuno Building.
Amidst the chaos following the earthquake, many architects, including those from the Dojunkai, worked tirelessly to achieve recovery and create new urban spaces. It's evident that they blended Western architectural styles with traditional Japanese housing concepts, adapting to the rapidly changing era's way of life. The lifestyles and architectural styles that these buildings birthed will undoubtedly continue to influence our lives moving forward.
Ginza Showroom
https://www.shokunin.com/en/showroom/ginza.html
References
https://bunka.nii.ac.jp/heritages/detail/146645
https://bunka.nii.ac.jp/heritages/detail/457999
https://www.a-quad.jp/exhibition/070/p11.html
https://en.wikipedia.org/wiki/Dojunkai_Apartment
http://www.anno-spero.org/memes/writings/dojunkai/main08-2.htm