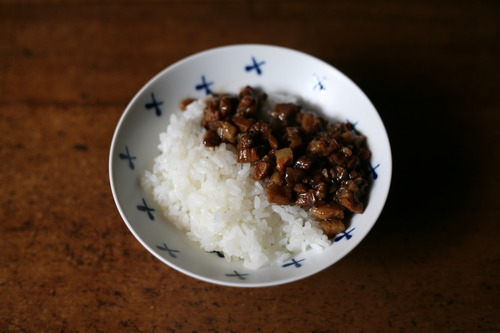 Whenever I visit Taiwan, I stop by various snack restaurants and eat the familiar dish lu rou fan. Today, I made it while following a popular recipe on "愛料理," the Taiwanese version of Cookpad, so that I would not forget the authentic taste.
While I followed the recipe exactly, one thing I did change was to add a bagful of large shiitake mushrooms chopped into chunks to increase the volume of the pork belly, which is not inexpensive in Japan. The shiitake mushrooms give the dish a great broth flavor and texture that goes well with the meat.
Hakusan Porcelain's Hirachawan is 3 cm larger in diameter than a typical rice bowl, making them ideal for dishes such as roast rice served over rice. Why not combine it with the popular Yoshita Handi-Design Studio's Renge Spoon and enjoy the delicious lu rou fan to your heart's content?
Hakusan Porcelain's Hirachawan
https://www.shokunin.com/en/hakusan/hirachawan.html
Yoshita Handi-Design Studio's Renge Spoon
https://www.shokunin.com/en/yoshita/cutlery.html
Recipe
https://icook.tw/recipes/391516