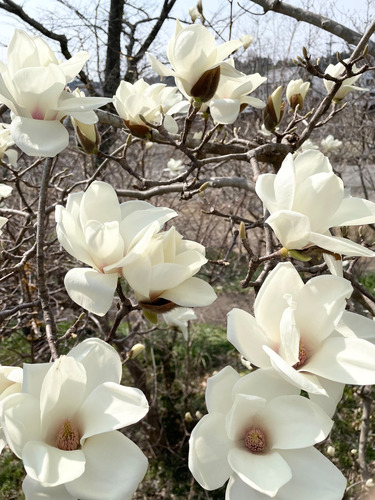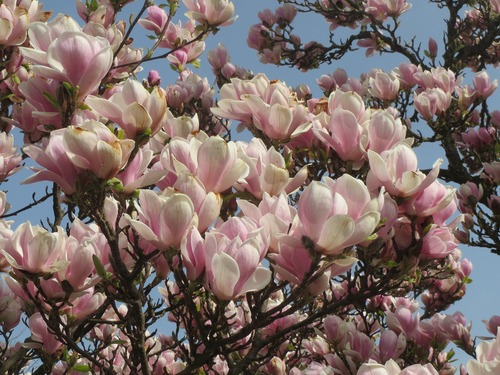 [Mokuren, Enjoying the Fragrance of the Flower]
"Mokuren" seems not to have the leading role like cherry blossoms and plums, but it has a dignified and elegant appearance. Recently, we seem to be hearing more and more about it under the lovely name "magnolia," used in fragrances, brand store names, movie titles, and so on. It is also popular overseas for use as a roadside tree and garden tree, and in Japan it has been cultivated since the Heian period (794-1185), and is now a favorite tree throughout the country. The familiar name mokuren is more appropriate than magnolia, given its blooming appearance.
The language of flowers for mokuren in general is "love for nature" and "persistence. It is surprising to learn that magnolias existed and produced beautiful flowers around 100 million years ago, when dinosaurs were still alive. The open flowers can be enjoyed for 3 to 4 days, and the buds always face north, which is why they are also called "compass flowers." Ancient dinosaurs may have moved around while looking at magnolia buds. On the other hand, "magnolia" seems to be a general term for Magnoliaceae, and mokuren does not = magnolia. Mokuren is also a type of magnolia, and there are 90 other species distributed mainly in Asia, including white magnolia, fist magnolia, and taishan magnolia.
Flowers are beautiful just by looking at them, but fragrance is also an important element. Fragrance reaches the brain within two to three seconds of smelling it and works directly on the body. Recent studies have shown that fragrance stimulates the brain, which can boost immunity and prevent dementia. In addition, it also has the effect of regulating hormone balance and improving the quality of sleep. The fragrance of Magnolia flowers also has a fresh, sweet scent that is faintly lemon-like. This is due to the main ingredient linalool, which is also found in rosewood, lavender, and neroli. It is also an uplifting and refreshing scent.
There are many benefits to this season, but it is a good time of year to just look at the fresh greenery and flowers that are beginning to bloom and feel refreshed. Why not bring a green branch or a single flower into your room? We also have Still Green by Ceramic Japan that become objets d'art just by placing them, vases that look like paper bags turned into ceramics, and New Crinkle Super Bags. We also recommend the single-flower vase by Seiryugama. Please take a look at our site.
Ceramic Japan's Crinkle
https://www.shokunin.com/en/ceramicjapan/crinkle.html
Ceramic Japan's Still Green
https://www.shokunin.com/en/ceramicjapan/stillgreen.html
Seiryugama's Ichirinzashi
https://www.shokunin.com/en/seiryu/ichirin.html
References
https://botanica-media.jp/1643
https://horti.jp/8534
https://www.joycoco.jp/hpgen/HPB/entries/69.html