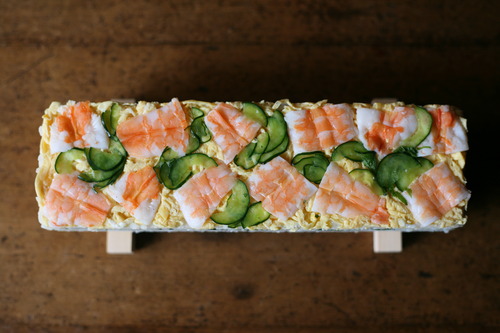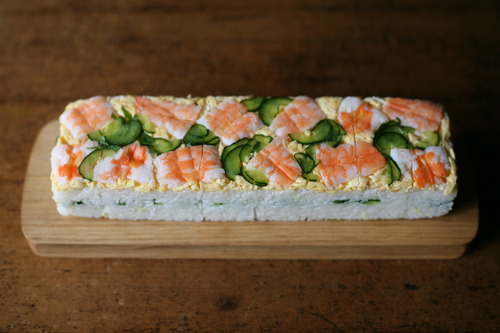 [Spring-Colored Pressed Sushi]
When you think of spring colors, what colors come to mind? The soft petals of peach and cherry blossoms, the youthful green of leaves and grass, the bright yellow of rape blossoms and dandelions, and the sunny orange. After a long winter, spring is a time when the world is bathed in light and seems to regain its brightness. Japan has a long history of using natural dyes such as flowers and grasses to dye clothes, and there are many color names derived from nature, and waka poems and literature are rich in colorful expressions of the seasons.
Because it is such a bright season, beautifully colored foodstuffs somehow catch the eye when you go to the supermarket. So, how about using Yamaichi's Pressed Sushi Box as a canvas to make oshizushi (pressed sushi), which are scattered with the colors of spring?
The "spring-colored oshizushi" is a colorful oshizushi made with white, orange, green and yellow ingredients. It is recommended for seasonal events such as the Doll's Festival, celebrations, and parties where people gather. It can be served with soy sauce and wasabi like regular sushi or with mayonnaise.
This weekend is supposed to be warm and spring-like across the country. Please enjoy a colorful "spring" at your table with your family and friends.
Ingredients:
6 boiled open prawns for sushi
2 eggs
1 cucumber
8 to 10 shiso leaves
(Sushi rice)
1.5 cups of cooked rice
2 1/2 tablespoons vinegar
1 tablespoon sugar
2/3 teaspoon salt
2 tablespoons shredded ginger
Directions:
1. Fry the egg thinly in a frying pan, then roll it up and cut it into strips to make kinshi-tamago.
2. Cut cucumber in half lengthwise and remove the seeds from the center with a spoon (due to high water content). Remove the seeds from the center of the cucumber with a slotted spoon (the removed part can be used for dressing, etc.) and cut into thin slices. Sprinkle with a pinch of salt (not included), let sit for a few minutes, then squeeze out the water. Cut the shiso leaves into thin strips.
3. Cut ginger into thin slices and then into thin strips. Combine the seasonings and shredded ginger with cooked rice to make sushi rice. While fanning the rice with an uchiwa fan, mix the sushi rice to cut the whole mixture, and allow it to cool to the body temperature.
4. In a pressed sushi box, arrange the shrimp and cucumber, cut into bite-size pieces, in a well-balanced arrangement, and cover with the kinshi-tamago (egg).
5. Place half of the sushi rice on top of the sushi rice, flatten and press.
6. Arrange the remaining cucumber and shiso leaves, top with the remaining sushi rice and press.
7. Turn over, cut along the slits, and remove from the mold.
Yamaichi's Pressed Sushi Box
https://www.shokunin.com/en/yamaichi/oshi.html
Yoshita Handi-Design Studio's Cheese Board
https://www.shokunin.com/en/yoshita/cheese.html
Reference
https://kyotoliving.co.jp/topics/10393.html