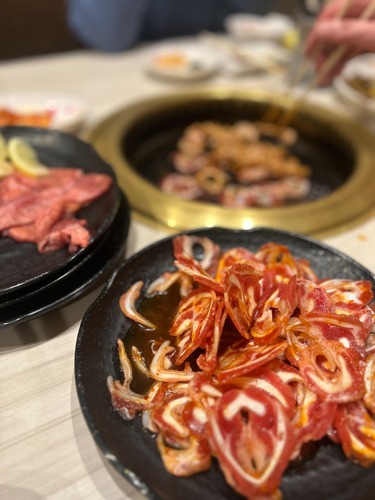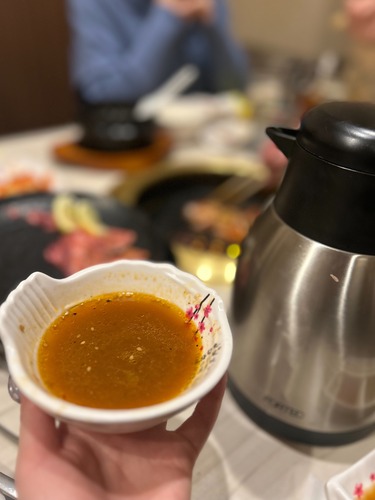 [Otaru's Unique Yakiniku Culture]
Hokkaido is probably best known for its jingisukan (Japanese mutton barbecue), but of course, yakiniku is also a popular dish.
Otaru City has a unique culture where people order a special "shime" (last meal) after they finish eating yakiniku. Normally, bibimbap, ice cream, or kuppa (rice topped with vegetables) would be on the menu, but Otaru residents all order "soup."
This soup does not mean wakame soup or tail soup, but rather the broth that is poured into the sauce used to eat yakiniku earlier. In Otaru, drinking the yakiniku sauce at the end of the meal is the standard way to end the meal. This is said to have originated at Sanshiro, a long-established yakiniku restaurant in Otaru, which thought it would be a shame to throw away the sauce that had been deepened by the meat extract. Nowadays, at most yakiniku restaurants, when you ask for soup, the waiter will bring a pot and pour it for you.
The rich sauce with the delicious meat fat dissolved in it mixes just right with the light dashi broth, making it the perfect choice for shime. It may resemble the sensation of drinking soba-yu. Every restaurant we often go to serves it free of charge.
The taste of dashi broth differs from restaurant to restaurant, so when you visit Otaru, please ask for soup at various yakiniku restaurants.
Otaru Showroom
https://www.shokunin.com/en/showroom/otaru.html
Yakiniku Sanshiro
https://goo.gl/maps/ckteK9fm54Hj1dyg7
Daijinmon (store in photo)
https://goo.gl/maps/P6Wxw52Z9ZnXaoEK7
Reference
http://www.winkel.co.jp/staff/8655.html