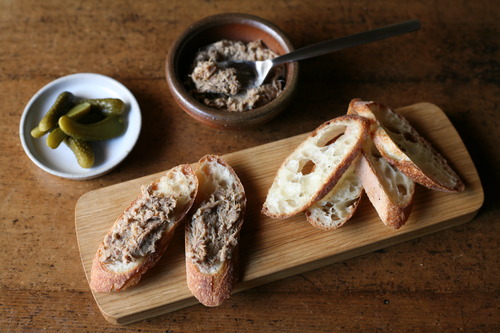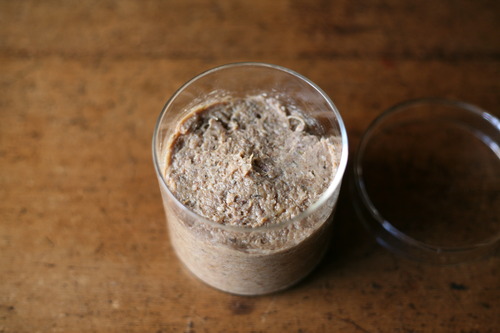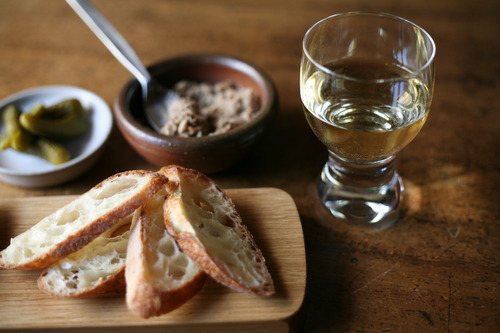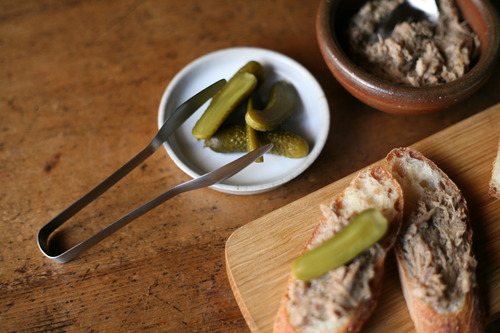 [Rillette]
Rillette is a French dish made by sprinkling strong salt on cubed or chopped pork belly or shoulder, cooking it slowly until it can be easily loosened in the fat from it, and then cooling it until the fat becomes a paste. Locally, canned or bottled rillettes are readily available at supermarkets and butcher shops, and are usually eaten on baguettes or pain au levain. In Japan, it is also popular as a snack with wine, along with pâté and terrine.
Originally a preserved food, rillettes originated around the 15th century in France's Andor-et-Loire department, a custom passed down from generation to generation in a farming village in the region formerly known as Touraine. The lard cover prevents the meat from being exposed to the air and allows it to be preserved for a long time. Rillettes around Tours, the provincial capital, were a typical regional dish, praised for their flavor in Balzac's "Lilies of the Valley" and described for their reputation in Proust's "In Search of Lost Time."
Also famous is the rillette of Le Mans, one of the three major race venues in the world. Around the late 19th century, Le Mans began mass-producing rillettes based on Tours' recipe and popularized them to the public. This is why Tours and Le Mans are known as the place of origin.
Traditionally, rillettes are made with pork, but today there are many varieties other than pork, and rillettes made with poultry meat such as goose and duck, game such as deer, wild boar, and rabbit, and seafood such as salmon and tuna are also popular.
The rillette I made this time is a simple pork rillette. Because of its high calorie content, we recommend spreading a small amount on a baked bucket and eating it with pickles. For the wine, I highly recommend a French white wine. Please enjoy this dish while imagining a fashionable France.
Yoshita Handi-Design Studio's Cheese Board
https://www.shokunin.com/en/yoshita/cheese.html
Ichiyougama's Kobachi
https://www.shokunin.com/en/ichiyou/kobachi.html
Yoshita Handi-Design Studio's Jam Spoon
https://www.shokunin.com/en/yoshita/cutlery.html
Koizumi Glass's Schale 90x90
https://www.shokunin.com/en/koizumi/schale.html
Hirota Glass's Sori Yanagi Wine Glass S
https://www.shokunin.com/en/hirota/wine.html
References
https://www.sarthetourisme.com/decouvrir/terroir-et-gastronomie/les-rillettes-du-mans/
https://fr.wikipedia.org/wiki/Rillettes
https://ja.wikipedia.org/wiki/%E3%83%AA%E3%82%A8%E3%83%83%E3%83%88
https://atable-epiceriefine.com/20220226/rillettes-a-classic-charcuterie-dish-loved-by-the-french/
https://mi-journey.jp/foodie/40188/
(Reference recipe 1)
https://www.youtube.com/watch?v=TMO9ssWISi0
(Reference recipe 2)