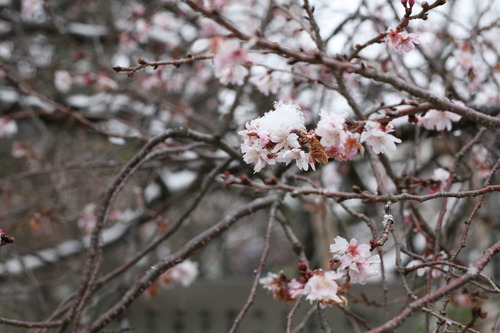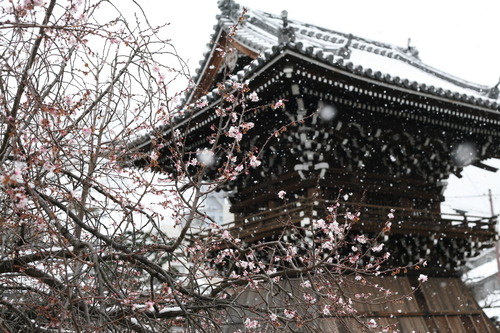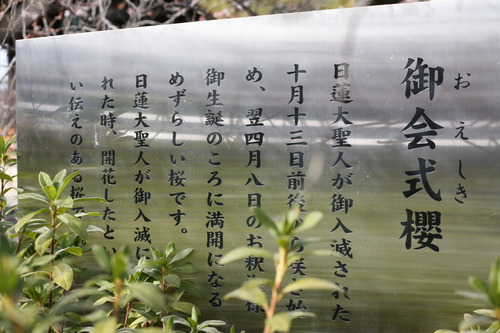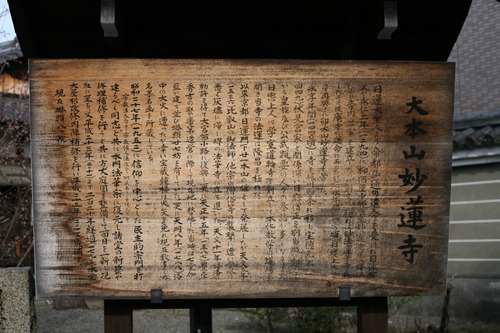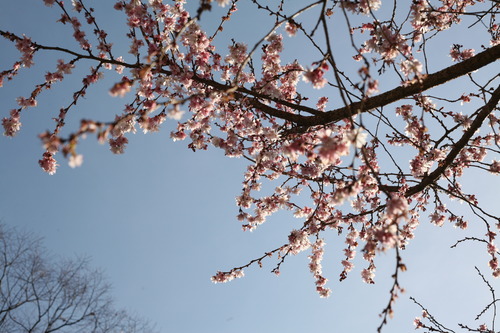 [Cherry Blossoms in Kyoto in Winter]
The cold weather has returned, and today Kyoto is covered with a light dusting of snow even in the city. Although the cherry blossom season is still far from over, there are several cherry blossom viewing spots in Kyoto that can be seen even during the winter season. I would like to introduce two of them to you this time.
The first is the "Oeshiki cherry" at Myorenji Temple in Kamigyo-ku. The name "Oeshiki" comes from a legend that the cherry blossoms bloomed on October 13, the day Nichiren Daishonin passed away. As a variety, it bears the name "Jugatsu-sakura," and has been known as a horticultural variety since the Edo period (1603-1868) as an interspecific hybrid of the Mame-sakura and Edohigan cherry trees. The pretty double-petaled flowers, light pink in color, bloom from early October every year, and continue to bloom here and there throughout the winter as if in a breathless state, reaching full bloom around the time of the Flower Festival in April, the birthday of Lord Buddha.
The other is the "Oike cherry" planted in front of the Kyoto Oike Soseikan, located westward on Oike Dori from in front of Kyoto City Hall. "Oike cherry" is a nickname for this cherry tree, which is actually a hybrid of yamazakura (Prunus jamasakura) and Oshima-sakura (Prunus speciosa), a type of cherry tree called "Fudan-sakura." The word "fudan" means "without ceasing." The cherry blossoms bloom from December to April with a pale, light red color, delighting the eyes of people passing by on Oike-dori. In the midst of modern Oike Dori lined with buildings, some people may be cheered up by the healthy appearance of the Oike cherry, which blooms small flowers in the cold weather. It is not unusual to see people pointing their cameras at them.
Myorenji Temple, where the Oeshiki cherry is located, is a 5-minute walk from the Imadegawa Showroom. Kyoto Oike Soseikan, where the Oike cherry is located, is a 5-minute walk from the Sanjo Showroom. When you visit our showroom, please take a look at the beautiful winter cherry blossoms nearby as well.
Imadegawa Showroom
https://www.shokunin.com/en/showroom/imadegawa.html
Sanjo Showroom
https://www.shokunin.com/en/showroom/sanjo.html
Myorenji Temple
https://goo.gl/maps/N8Mh68dmA8JHCsaT8
Kyoto Oike Soseikan
https://goo.gl/maps/MxDdwUtG7fV2unpS9
References
https://www.jalan.net/news/article/590903/
https://media.mk-group.co.jp/entry/sakura-oeshiki/
https://kyotopi.jp/articles/gOQ6x