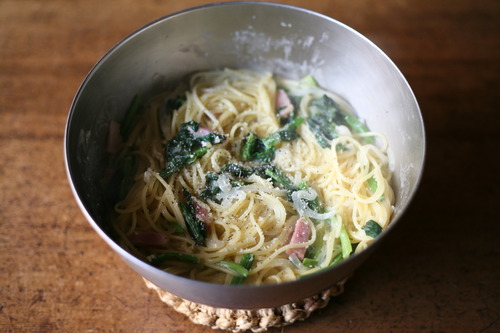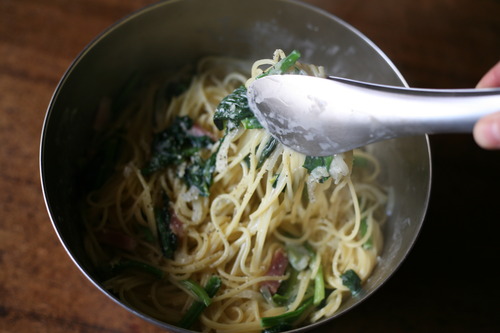 [Spaghetti Partner]
This spaghetti is 333g (before boiling) for two large servings. Make the sauce in a frying pan, then throw in the boiled spaghetti! But isn't it sometimes hard to mix all the spaghetti in the frying pan because of the amount of spaghetti?
We use 23cm of Sori Yanagi's Stainless Steel Bowl, set a colander in the bowl, empty the spaghetti into the bowl with the hot water, drain the water, and warm the bowl at the same time. Then, after mixing the spaghetti and sauce in the bowl with the hot water running off, we take it straight to the table as a bowl. This is an indispensable item for those days when you are in the mood for a large serving of spaghetti that you can share.
Designed by Sori Yanagi in 1960 after years of research, the immortal stainless steel bowl is an outstanding design and practicality. Among them, we recommend the 23cm bowl, which is designed with a deeper curve of the bowl for ease of mixing.
A masterpiece is something that becomes even more valuable as you pick it up and use it every day. We hope you will use this stainless steel bowl, a representative of Japan, as a partner for your spaghetti dishes.
Sori Yanagi's Stainless Steel Bowl 23cm
https://www.shokunin.com/en/yanagisori/bowl.html
Sori Yanagi's Stainless Steel Tongs
https://www.shokunin.com/en/yanagisori/tongs.html
Honma Kazuo Shoten's Straw Pot Stand M
https://www.shokunin.com/en/honma/nabeshiki.html
Recipe
https://park.ajinomoto.co.jp/recipe/card/801591/