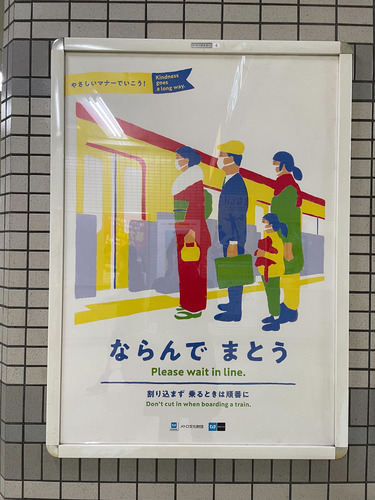 [Kind Feelings]
If you are a Tokyo Metro user, you have probably seen this poster at least once. This is a series of Tokyo Metro manner posters that has been running monthly since last April. The posters are basically painted in red, yellow, green, and blue, with no extra color scheme, and they brighten up the otherwise gray-toned subway premises. Many lovers look forward to the new poster every month, don't you think?
The smiling, slightly comical, and intellectually playful illustrations are the work of Paris-born Paul Cox, an English teacher and self-taught artist. After working as an English teacher, he became self-taught and devoted himself to creative work. He is active in France and around the world, and his works include picture books, paintings, graphic design, as well as stage and costume design and many other fields. In Japan, he has gained a wide range of fans through Lumine Christmas installations, advertisements for the opening of the Hokuriku Shinkansen Line, picture books, and collaborative goods.
The posters were created based on the concept of using expressions that are easy for everyone to understand and appreciate, including young and old, men and women, and customers from overseas, with the hope that they will practice a "kind feeling" while caring for one another. My favorite was "How to hold the umbrella" in June. Other simple phrases, such as "Luggage needs attention," "watch where you're going," and "Please sit properly," remind me again of the importance of these simple phrases.
The passengers wearing masks in all the months of the year were also uniquely Japanese, as they were suffering from the Corona disaster. Back numbers are also available for viewing, so please try to feel the "kind feelings" conveyed through the paintings. We are sure you will encounter them somewhere when you visit our Ginza showroom. There are only two months left, and we are looking forward to seeing the next installment.
Ginza Showroom
https://www.shokunin.com/en/showroom/ginza.html
References
https://bureaukida.com/paul-cox/
https://www.metrocf.or.jp/event/2022/manner_poster_20220401-01.html