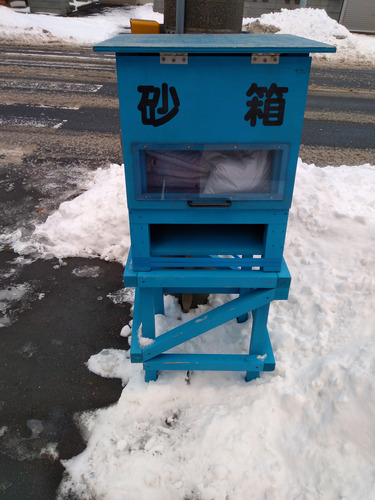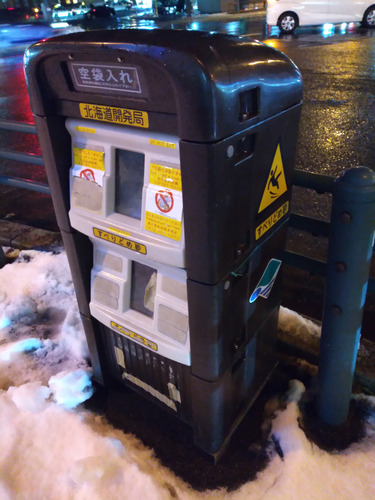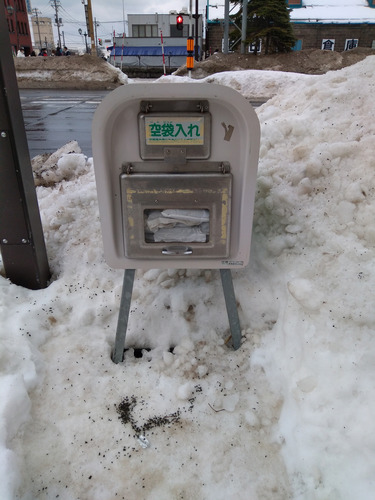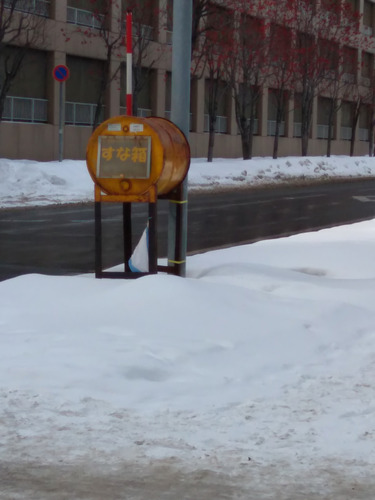 [Sand Box]
Sand boxes are often found on roads in snowy regions such as Hokkaido, although they may be unfamiliar to those who live in areas where it does not snow.
The shapes of these boxes vary by city, town, and district, but they are often seen on busy streets and are essential for walking safely on snow-covered roads and protecting oneself from injury due to falls. Whenever the road is slippery and dangerous to walk on, sand boxes can be used by anyone. Because many people walk at intersections, pedestrian crossings, and streets in front of train stations, snow is trampled down and becomes a slippery surface in no time. Even northern residents who are accustomed to walking on snow-covered roads will slip. In such cases, don't hesitate to spread sand for yourself and those who will come after you. Otaru City, where our showroom is located, is a particularly hilly town, so if you have any concerns about walking, please feel free to use it not only for locals but also for visitors.
It is easy to use. Simply remove the sand in a sand bag or plastic bottle from the sand box, open the seal, and sprinkle a small amount over a wide area. Empty bags or PET bottles are placed in the empty bag container in the sand box. This sand is not the silky sand found in sand boxes or beaches, but rather small, angular stones made from finely crushed stones that stick to the icy road surface and act as a non-slip surface. What happens to the spread sand is that when the snow melts and spring comes, volunteers who clean up the area collect it. In winter, many people are said to be transported to emergency rooms due to falls, but thanks to the activities of those who replenish the sand boxes, spread the sand, and collect it, people can walk more safely on snow-covered roads, which are often dangerous.
While this is a common sight for those of us who live in snow country, it may be an unusual sight for visitors. Some sand boxes are modern, some have a retro feel, and some have a slightly different shape, so it may be fun to see what kind of sand box you can find.... And remember that the areas where the sand boxes are located are particularly slippery, so please be careful not to fall over.
Otaru Showroom
https://www.shokunin.com/en/showroom/otaru.html
References
https://www.city.otaru.lg.jp/docs/2020101000011/
https://www.city.sapporo.jp/kensetsu/yuki/sunamaki/index.html