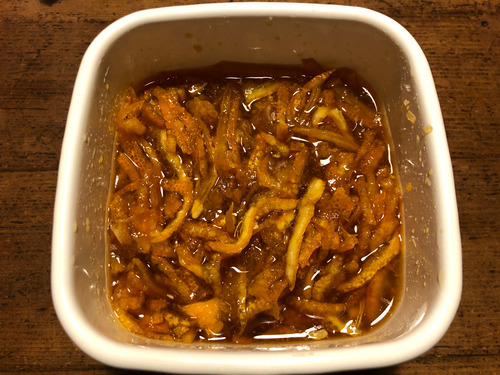 [Mikan Tea]
Home-grown mikan (mandarin oranges) and yuzu (a type of citrus fruit) arrived from my parents' home in Toyama. I heard that they are grown without pesticides and even the peels taste good, so I put the finished mikan and yuzu peels in a Ziploc and stored them in the refrigerator. Since I had just returned from a business trip to Korea, I decided to make "mikan tea" with candied mikan peels, referring to yuzu tea (yujacha), a traditional drink in Korea. In fact, I mixed a little bit of yuzu peel and fruit into the tea, so I guess you could call it "mikan tea with a yuzu flavor."
After soaking the mikan and yuzu peels in water with a little vinegar for a while, rinse them clean under running water and wipe them carefully with a dish towel or kitchen paper to remove the water completely. Scrape off the white part on the underside of the mikan peel with a knife, then cut it into strips. Cut the yuzu peel into strips as well. Cut two yuzu fruits in half and squeeze them with a juicer, then peel off the fruit attached to the skin and chop them finely as well. Mix mikan peels, yuzu peels, chopped yuzu nuts, and yuzu juice in a bowl, and add 80% to the same amount of sugar (we used cane sugar), stirring to distribute it throughout. Leave the sugar in the jar for 3 to 5 days at room temperature, then put the jar in the refrigerator for 20 days to mature. The mixture will gradually thicken, but once the sugar and water from the peel are blended, it can be drunk the next day.
The peel of mikan, dried for a long time, is called "chenpi," and has been valued as a Chinese herbal medicine to relieve various symptoms of coughs and colds. The components of the peel, such as limonene and terpin, are believed to have a calming and relaxing effect on the body and mind. The soft and gentle aroma that rises softly when hot water is poured makes one feel somewhat relaxed.
For storing mikan tea, we recommend Square M by Noda Horo, Canister S by Koizumi Glass, or Schale 90x90. You can drink it in your favorite cup with plain hot water or green tea, add it to dressings, put it in pancakes, and enjoy it in many other ways depending on your ingenuity. Mikan tea and yuzu tea, which warm the body from the inside, will surely support you in your cold winter days. If you have any leftover yuzu or mikan after eating delicious mikan, please try making them.
Azumaya's Juicer
https://www.shokunin.com/en/azmaya/juicer.html
Noda Horo's Square M with a Lid
https://www.shokunin.com/en/noda/
Koizumi Glass's Canister S
https://www.shokunin.com/en/koizumi/canister.html
Koizumi Glass's Schale 90x90
https://www.shokunin.com/en/koizumi/schale.html
References
https://ja.wikipedia.org/wiki/%E6%9F%9A%E5%AD%90%E8%8C%B6
https://www.chojyu.com/column2020/column-details-210106.html
https://www.yomeishu.co.jp/health/3617/