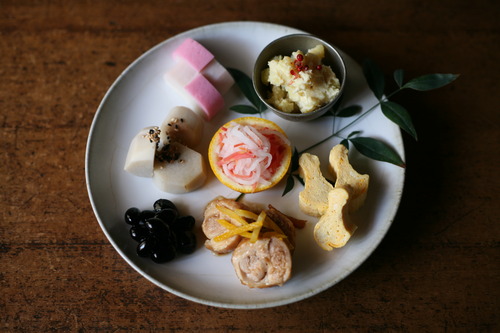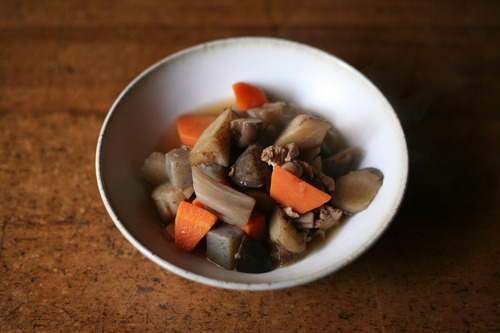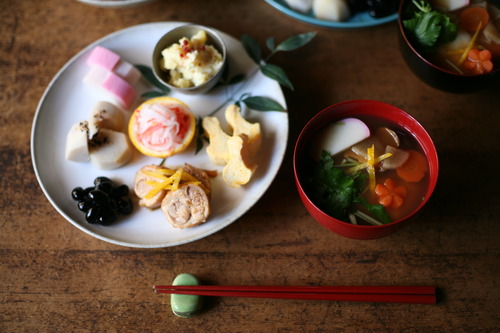 [Plate Osechi]
Happy New Year! This year, we decided to make a plate osechi using Seiryugama's Plate, which was added last year. Osechi, a traditional Japanese New Year's dish, is originally served in a stacked box, but recently we often see a new style of serving osechi dishes on a single plate on social networking sites. The plate osechi, which allows you to choose your favorite osechi dishes little by little, is a perfect style for today's busy people, as it requires less cooking time.
This year's osechi includes kamaboko (fish cake), simmered taro, kuromame (black soy beans), tori-char-siu (chicken char siu), namasu (radish and carrot), dashimaki (omelet made with broth), kinton (sweet potato and cream cheese kinton), and chikuzen-ni (chicken and vegetable stew). The red, black, and yellow colors look great on the plate, which is reminiscent of lingering snow in early spring.
Many tools played an active role in making osechi, such as Nakamura Douki's Yukihira Pot, Noda Horo's Enamel Preservation Container, Kiya's Sushimaki, and Yoshita Handi-Design Studio's Peeler.
We will continue to introduce tools for daily life that will be a part of your everyday life. May it be a wonderful year!
Nakamura Douki's Copper-Made Yukihira Pot
https://www.shokunin.com/en/nakamuradouki/yukihira.html
Noda Horo's Enamel Preservation Container
https://www.shokunin.com/en/noda/
Kiya's Sushimaki
https://www.shokunin.com/en/kiya/sushimaki.html
Yoshita Handi-Design Studio's Peeler
https://www.shokunin.com/en/yoshita/peeler.html