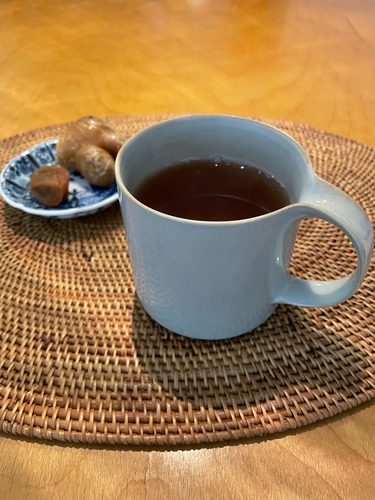 [Umeshobancha]
It's getting colder and colder. Recently, when I feel hungry, I have been drinking umeshobancha instead of soup. It is a drink made of umeboshi (pickled plums), soy sauce and bancha tea. I started drinking it to improve my sensitivity to cold, because the ingredients of umeboshi are said to take away even the core coldness of the body. Bancha does not contain much caffeine, which can chill you if you drink too much, and the ginger gingerol boosts blood flow, and if you drink it while it is hot, your body will be warmed up.
It is good to drink in the morning, but it is also good to drink at night, as it slowly warms you up and secretes melatonin, which helps you fall into a deep sleep. The benefits are not limited to cooling off, but also include the effect of umeboshi, a Japanese superfood full of citric acid, which relieves fatigue and makes the body less likely to get tired. In addition, the picric acid in umeboshi activates liver function, so they are expected to help with hangovers, intestinal activity, and boost immunity. It is perfect for the coming season.
It is easy to make. You can buy umeboshi in paste form, but they should be traditional, salty, and preferably additive-free. For bancha, we recommend "sannen bancha," which is made by drying the leaves and stems of harvested tea, for its aroma and depth. Time is passing by in a busy season, but it would be good if you can make a space to relax just in the morning and evening.
Above all, drinking umeshobancha leaves you with a lingering feeling that you are doing something very good. Perhaps there is also a mental effect from the aroma. I really like Ceramic Japan's Moderato mugs, which are a popular series that are cool yet relaxing, easy to hold, and never get tired of. Please cherish your own time and have a wonderful year-end and New Year holidays.
Umeshobancha (1 mug)
Ingredients:
1 umeboshi (pickled plum)
1 teaspoon soy sauce
A pinch of grated ginger juice
1 cup of bancha tea
Directions:
1. put dried plum in a mug and break into pieces.
2. Add soy sauce and grated ginger juice.
3. Pour bancha (coarse tea) into the mug.
Ceramic Japan's Moderato Mug
https://www.shokunin.com/en/ceramicjapan/moderato.html
Oya Seisakusho's Copper Grater for Yakumi
https://www.shokunin.com/en/oya/
Kiya's Yakumiyose
https://www.shokunin.com/en/kiya/yakumi.html
References
https://bybirth.jp/press/archives/208391
https://kawashima-ya.jp/contents/?p=487