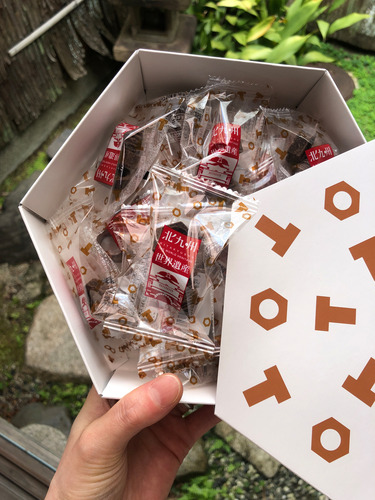 [Omiyage Culture]
The other day, I overheard a conversation in the souvenir section of a department store as a person traveling from outside of the prefecture was selecting a souvenir for his workplace. While they were trying to decide which of the many famous local confections to choose, the fact that the name of the place was on the confectionery seemed to be the deciding factor in their choice of "omiyage" (souvenir). Each region in Japan has its own specialty, and "omiyage" is a communication tool to share memories of the trip.
It is said that the origin of omiyage is connected to the pilgrimage to shrines and temples. In ancient times, omiyage were gifts received from temples and shrines as a token to report to family members and others that one had made a pilgrimage to a shrine or temple. It was during the Edo period (1603-1867) that the culture of traveling became widely established. For the common people in those days when transportation was not well organized, a once-in-a-lifetime trip to Ise Shrine was like a dream come true. The high cost of the trip made it difficult for everyone to participate, so a system called "Oiseko" was established in which villagers pooled their money together and a representative selected by lot was allowed to visit the shrine. Villagers who unfortunately could not make it to the shrine would give their money to the representative and ask him or her to pray for them, and the representative would purchase "miyage," such as plates and vessels to put the ofuda (talismans) to be given at the shrine, for the entire village and return home.
However, with the increase in the number of people visiting shrines and temples, it became difficult to cover all the expenses with gifts, so people began to purchase "specialties" such as rice cakes, dumplings, and steamed buns, which came to be sold at the gates of shrines and temples and at tea shops along the roads, as "omiyage" as an alternative. In this way, one culture has taken root in Japan: souvenirs are "something you give away as a sign that you have been there."
Recently, domestic travel has been increasing throughout Japan, and the number of travelers from overseas has been gradually increasing as well. Our showroom features carefully selected crafts from all over Japan. Some of these items are rarely available online. You may find something you will want to take home as a memento of your trip, or an artisan's skill you will want to talk about. We invite you to visit one of our showrooms near you when you travel.
Showroom Information
https://www.shokunin.com/en/showroom/
Nejichoko
https://nejichocolab.jp/
Reference
https://www.kaiundo.co.jp/blog/blog/seasonal_event/%E3%81%8A%E5%9C%9F%E7%94%A3%E6%96%87%E5%8C%96%E3%81%AE%E7%99%BA%E7%A5%A5.php