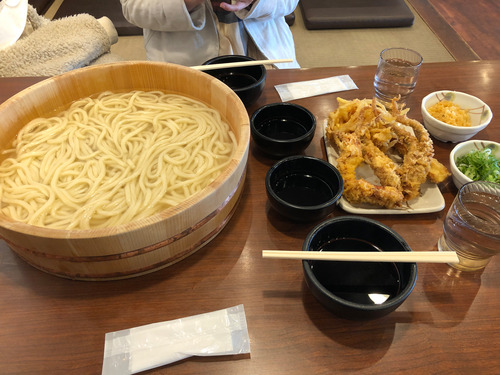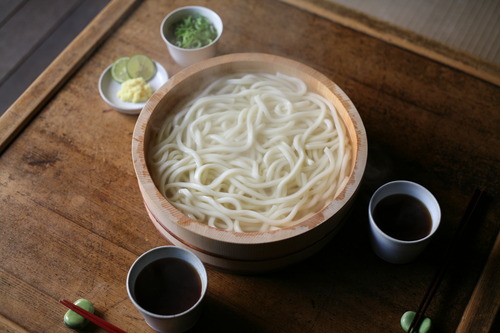 [Sushi Handai with Kamaage Udon]
On a business trip to Otaru last weekend, we stopped by Marugame Seimen on our way from Otaru Chikko to the showroom. There we found the "Kamaage Kazoku Udon," which serves 6 servings of kamaage udon in a large special wooden bucket, and we were able to enjoy delicious udon noodles at a very reasonable price in the morning.
Kamaage udon refers to udon noodles that have been boiled and placed in a wooden bucket or bowl without being watered down, and unlike watered-down udon noodles, the texture of kamaage udon is not as firm and changes over time.
Wanting to try this large wooden bucket of udon at home, we immediately decided to try making kamaage udon on Yamaichi's Sushi Handai. The Sanuki udon noodles we prepared this time were four 200 g bags, 800 g in total, enough for two people. Boil the udon noodles a little shorter than the prescribed time, and transfer the boiling water from the pot to the Sushi Handai. Fill a buckwheat noodle bowl with warm mentsuyu (noodle soup), prepare condiments, and set the bowl around the Sushi Handai, and all that remains is to enjoy the hot kamaage udon. The Sushi Handai made of Kiso-sawara keeps the udon warm and allows you to enjoy warm kamaage udon until the end of the meal.
Sushi Handai is a useful tool for making sushi rice, chirashi sushi, somen noodles in the summer, and kamaage udon in the cold winter. The wooden bucket is made using a traditional technique handed down from the Edo period (1603-1867), with a plane finish that enhances the luster of the wood surface and makes it water resistant.
Sushi Handai for kamaage udon. How about making your everyday dining table more enjoyable with a little ingenuity?
Yamaichi's Sushi Handai
https://www.shokunin.com/en/yamaichi/sushi.html
Seiryugama's Soba Set
https://www.shokunin.com/en/seiryu/soba.html
Appi Urushi Studio's Chopsticks
https://www.shokunin.com/en/appi/hashi.html
Kikkougama's Broad Bean Chopstick Rest
https://www.shokunin.com/en/kikkou/soramame.html
Susumuya's Teacup
https://www.shokunin.com/en/susumuya/yunomi.html
References
https://jp.marugame.com/menu/udon/kamaagekazokuudon/
https://ja.wikipedia.org/wiki/%E9%87%9C%E6%8F%9A%E3%81%92%E3%81%86%E3%81%A9%E3%82%93