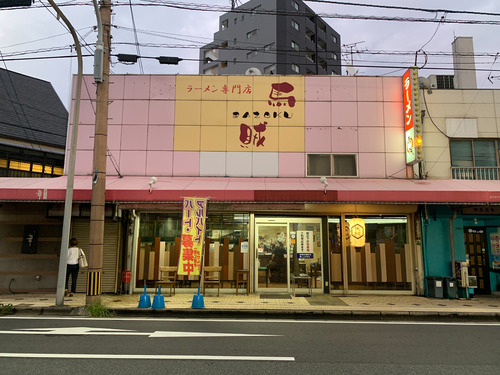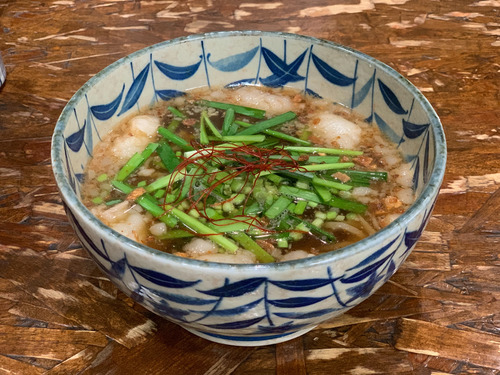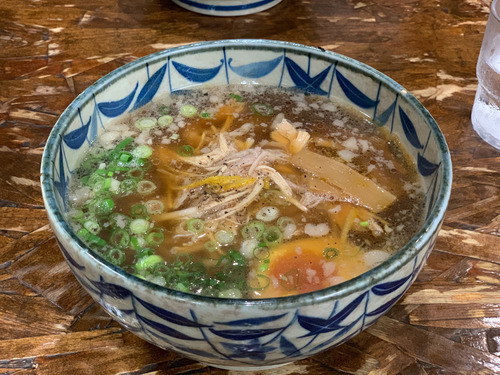 [Bazoku]
Ramen is the soul food of Fukuoka Prefecture. As a local delicacy, it has been called "Hakata ramen" or "tonkotsu ramen" by people outside of the prefecture for some time. If the word "ramen" is written on the menu, it is basically straight noodles in a pork bone broth.
Even in Kitakyushu City, most of the famous ramen stores have tonkotsu soup. Among the ramen stores that are always mentioned as Kitakyushu's gourmet restaurants, "Bazoku" has basic ramen with pork bone broth, but its Motsu-nira-soba and Chicken-soba are also popular.
Motsu-nira-soba is a combination of chives and chives in a slightly spicy soy sauce-based broth with the plump texture of domestic motsu (pork). The noodles soak up the slightly thicker broth, and although deep-fried garlic is used, the soup is elegant and full of flavor, unlike the garlic-infused motsu-nikomi nabe soup.
Chicken soba is made with chirimen noodles in a broth based on chicken stock, vegetables, and kombu (kelp). It is topped with yuzu peel and yuzu-flavored steamed chicken, and is light and refreshing. After eating the noodles, we recommend the chicken chazuke, a bowl of rice topped with the broth, rather than a replacement bowl.
Bazoku is a 10-minute walk from the Wakamatsu Showroom. It is one of the most popular ramen restaurants among the many Wakamatsu gourmet restaurants. Why not visit us when you stop by the showroom?
Bazoku
https://goo.gl/maps/uFb9cgXVzjKUGUrT7
Wakamatsu Showroom
https://www.shokunin.com/en/showroom/wakamatsu.html