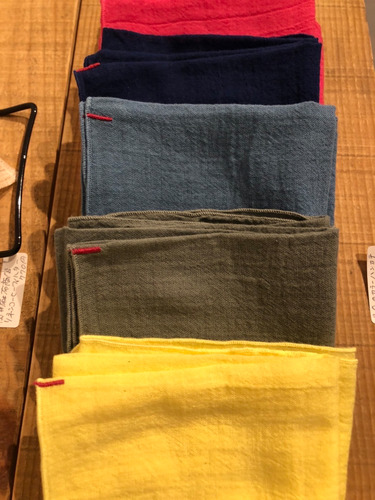 [Gentle Healing for Your Hands]
Over the past three years, disinfecting hands has become as common as washing hands. Autumn and winter are the seasons when rough hands due to dryness inevitably occur.
Ao's Colored Handkerchiefs have a soft and fluffy texture, and the gentle colors found in nature, such as lemon, azalea, and kakitsubata (rabbitear), soothe the heart. The gauze material is soft against the skin, absorbent, and dries quickly.
Currently, Ao's Colored Handkerchiefs are on display at the Ginza showroom. Some customers noticed the red mark embroidered on the handkerchief and asked, "Is it from ao?" We recommend these handkerchiefs for your own hands or as a gift to someone.
Don't forget to bring a soothing handkerchief for your hands and hand cream.
Ao's Colored Handkerchief
https://www.shokunin.com/en/ao/handkerchief.html
Ginza Showroom
https://www.shokunin.com/en/showroom/ginza.html