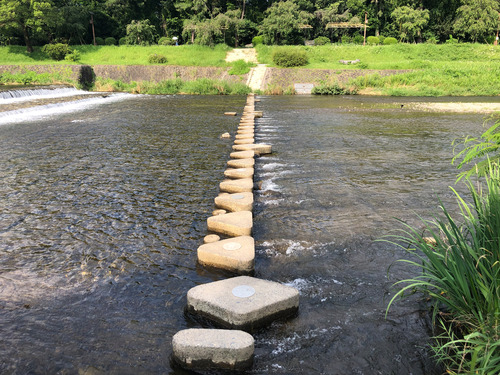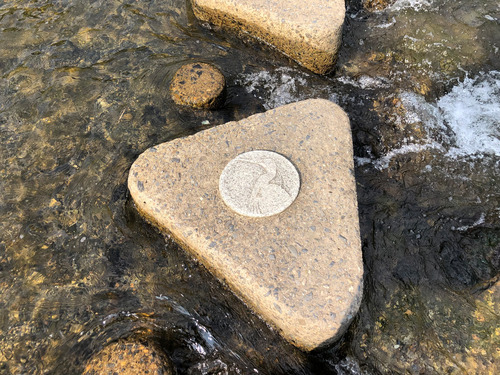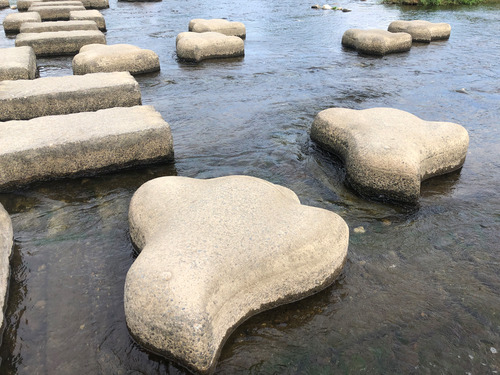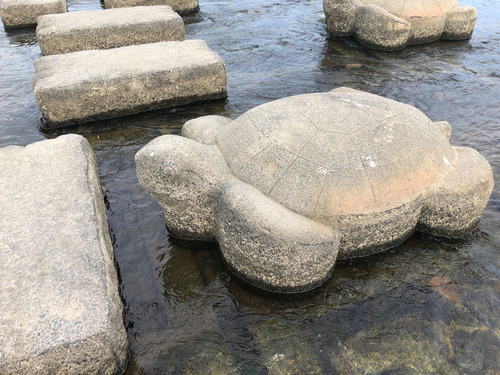 [Stepping Stones Along the Kamo River]
Turtle stepping stones in the Kamo River Delta, a typical Kamo River scene. If you have taken a walk around the area, you have probably crossed them at least once. Stepping stones are placed at several locations along the river, and their designs vary.
The most upstream stepping stone currently available is located downstream of the Kitayama Ohashi Bridge on the Kamo River. These stepping stones are made up of a series of small triangles with plates of carp, herons, and other Kamo River creatures attached to the triangles. There is also a slightly larger diamond-shaped stepping stone, and visitors can wait on this block when passing each other. Next to it to the north is a stepping stone located downstream of the Takano Bridge on the Takano River. Turtles and larger stepping stones are placed here.
Next are the stepping stones in the Kamo River delta, introduced in the first section. They are placed across the two rivers just before the confluence of the Takano and Kamo Rivers. Here, stepping stones of turtles and staggered birds are placed, and the area is particularly crowded with people. Further south, stepping stones can also be seen upstream of the Kojin and Nijo Ohashi bridges, with a turtle on the Kojin and a plover and boat stepping stones on the Nijo.
These stepping stones are concrete blocks placed on top of a strip of work to maintain a constant height of the riverbed. They were installed about 30 years ago as part of river environment improvement, and their unique shapes were created not only for functional purposes such as stabilizing the riverbed, but also to allow people to become familiar with the water. They also played an important role as a means of crossing the river and have become an indispensable feature of the Kamo River.
The Kamo River has long been a special place for the people of Kyoto, and while it has undergone gradual changes over time, it has become a popular place for recreation and relaxation for many people.
Kamo River Delta
https://goo.gl/maps/de3qz52Yfpab5rct7
Sanjo Showroom
https://www.shokunin.com/en/showroom/sanjo.html
Imadegawa Showroom
https://www.shokunin.com/en/showroom/imadegawa.html
Reference
https://www.pref.kyoto.jp/kyotodoboku/1345506984918.html