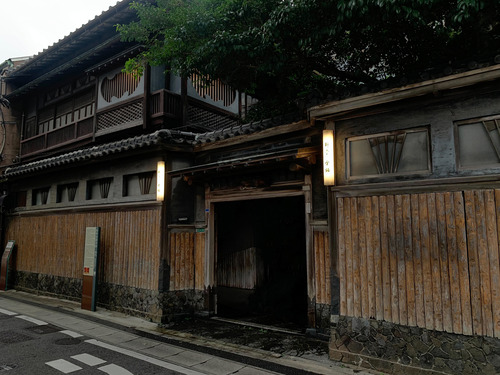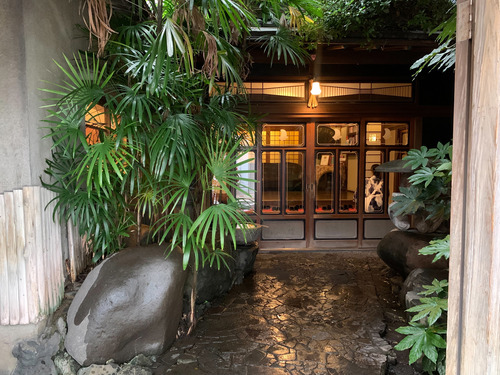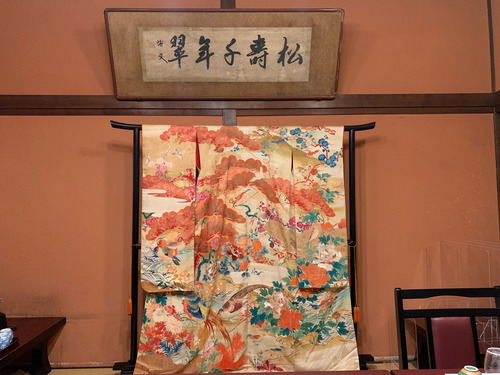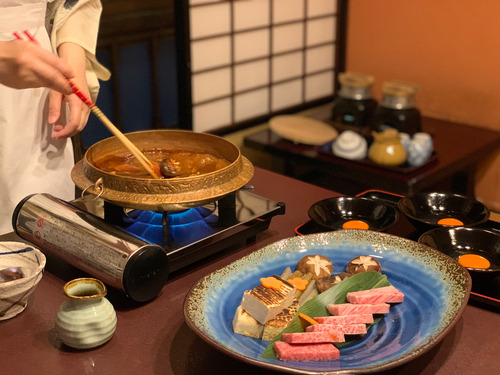 [The Long-Established Ryotei in Wakamatsu, Kinnabe]
Kinnabe is a ryotei (Japanese-style restaurant) that opened in 1895. It was established near Kokura Port in Kokurakita-ku at the beginning of the Meiji era as Kyushu's first beef hot pot restaurant, and later moved to Wakamatsu to become a ryotei.
The main building with massive black plaster and the front gate made of logs, both registered as Tangible Cultural Properties of Japan, were built between the end of the Meiji period and the beginning of the Taisho period to convey the prosperity of Wakamatsu at the time. Each room is decorated in a different shoin-style, a mixture of Japanese and Western design that reflects the times. The bat motif of the windows and the red walls of the rooms are said to express the glamour of a ryotei and the sensuality of a place of entertainment. In the past, the theater was located next door to the ryotei and was the center of entertainment in Wakamatsu, serving all three elements of theater, catering, and ryotei.
More than a hundred years after its establishment, the restaurant's specialty is still the same: beef hot pot. This dish consists of cubes of beef and vegetables simmered in a hatcho miso broth. This dish was born from the only way to preserve beef in the days when refrigerators did not exist, which was to marinate it in miso. It is served in an ornate golden pot, which is also the name of the restaurant Kinnabe. It is also famous as a dish loved by great writers of the Meiji era, such as Ashihei Hino, an Akutagawa Prize-winning author from Wakamatsu.
Today, Imari beef sirloin is used, and a kimono-clad waitress in a frilly apron cooks and serves the pot. You can enjoy the taste and atmosphere of a civilized bloom in a quaint building that has remained unchanged from that time. It is often chosen as a meal for a Hare-no Hi (a special occasion) because of its luxurious atmosphere.
It is an 8-minute walk from the Wakamatsu Showroom to Ryotei Kinnabe. Why not visit there together with the buildings on the south coast of Wakamatsu where the showroom is located? You will feel the history of Wakamatsu.
Ryotei Kinnabe
https://kinnabe.com/
Wakamatsu Showroom
https://www.shokunin.com/en/showroom/wakamatsu.html
References
https://www.city.kitakyushu.lg.jp/shimin/02100274.html
https://100nen.info/kinnabe/