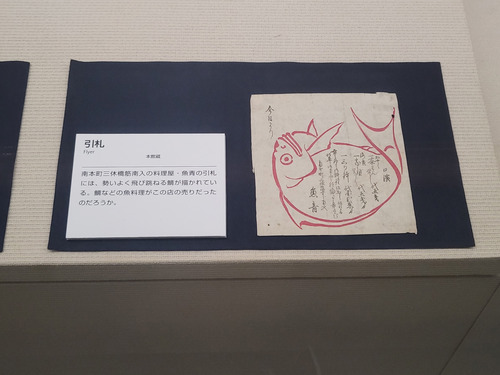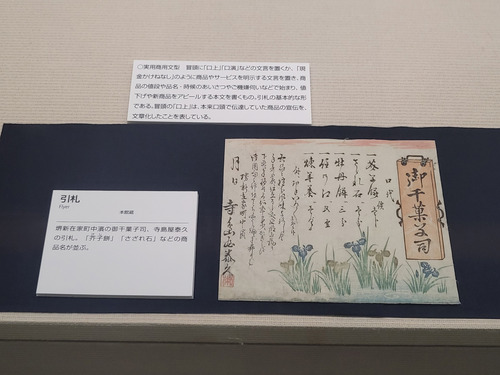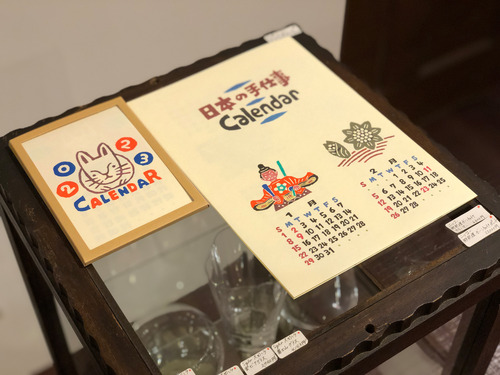 [Hikifuda]
At the Osaka Museum of History I visited the other day, there was an exhibit that made me stop and look at it because of its unique design and beautiful colors. "Hikifuda" refers to advertising materials created from the Edo period to the Taisho era to advertise products and stores, similar to today's inserts, flyers, and handbills. There are various theories as to the origin of the word, but it is said to derive from the words "to draw" or "attract" customers.
In the early days, the number of colors was as few as one or two, and the name of the store or product was added to a blank space in a picture that had already been drawn. In the Meiji era, copper plate printing and lithographic printing techniques were introduced, and the style changed to one that retained the handmade look and feel, but was more colorful and incorporated bold designs. Many of these were produced by descendants of Edo period nishiki-e artists.
The most attractive feature of hikifuda is the soft, handmade texture that the handwritten letters, lovely illustrations, and rich colors provide. I feel that this is the greatest charm of hikifuda.
Teshigoto Forum's Japanese Handwork Calendar is made by printing stencil dyes on the subject of Japanese handicrafts by Koichi Odanaka. The warm and colorful pictures and text, unique to handmade calendars, are sure to bring comfort and brightness to your daily life. How about a calendar that will give you a sense of relief in your busy daily life?
Teshigoto Forum's Japanese Handwork Calendar
https://www.shokunin.com/en/teshigoto/calendar.html
Wakamatsu Showroom
https://www.shokunin.com/en/showroom/wakamatsu.html
References
https://www.admt.jp/collection/category/?category_id=4
https://ja.wikipedia.org/wiki/
引き札
https://www.postalmuseum.jp/column/collection/post_9.html