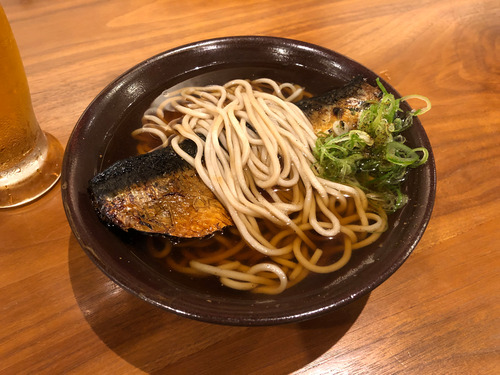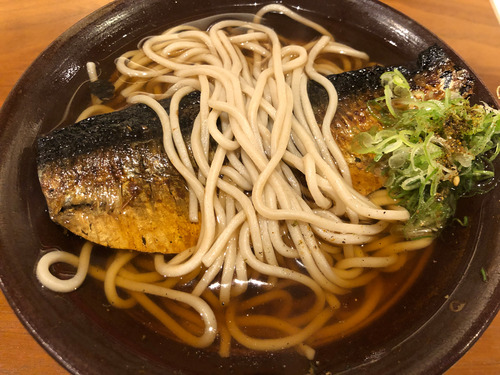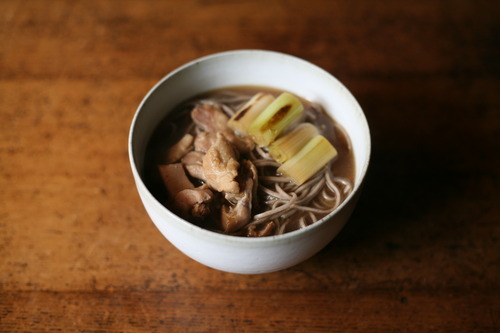 [Nishin Soba]
Nishin soba (herring soba) is one of Kyoto's specialties. I had many opportunities to visit Kyoto since I was a child, and every time I did, I often saw it in the city, so I always thought that nishin soba was a local Kyoto dish. Of course, I often ate herring dishes in my hometown of Hokkaido as well, but I never paid particular attention to this point. My hometown of Otaru City originally prospered from herring fishing. Thinking about it, I wondered why nishin soba was a specialty in Kyoto, where herring cannot be caught.
From the Edo period until around the early Showa period, herring fishing was very active, especially on the Sea of Japan side of Hokkaido. In Otaru City, there remains a herring palace called Nishin Goten, which shows how prosperous it was in those days. Caught herring were processed into dried herring and transported to Otaru. Kitamae-bune ships were active at this time. The Kitamae-bune connected Hokkaido and Osaka, buying and selling goods at ports along the way and making a round trip. Herring and kelp were often loaded, and spread from Osaka to the Kansai region.
Herring boiled in barbecue or taitan (Simmered Food) is still commonly eaten today. It is said that the reason why kombu dashi is the mainstream in Kansai is because temples used this kombu and treated it as vegetarian cuisine, which spread to the general public.
In Kansai, udon is eaten more often than soba, but in Kyoto, soba has also been eaten for a long time because of the strong temple culture. It is said that nishin soba originated at a soba restaurant called "Matsuba" in Kyoto, where herring brought from Hokkaido met soba. Of course, nishin soba is also eaten in Hokkaido, and "Yabuhan" in Otaru City is famous for it.
Incidentally, there is a difference between Kyoto and Hokkaido nishin soba. In Kyoto, nishin soba is served in a clear broth seasoned with light soy sauce and garnished with green onions such as kujo-negi, while in Hokkaido, nishin soba is served in a sweeter broth seasoned with dark soy sauce and often garnished with white onions. Why not compare the two to see which nishin soba you prefer?
Misoka-an Kawamichiya (Nishin soba pictured here. This famous restaurant was often visited by Steve Jobs. 3 minutes walk from Sanjo Showroom)
http://www.kawamichiya.co.jp/misokaan/shop/
Sanjo Showroom
https://www.shokunin.com/en/showroom/sanjo.html
Seiryugama's Donburi
https://www.shokunin.com/en/seiryu/donburi.html
Matsuba
http://www.sobamatsuba.co.jp/
Yabuhan
https://yabuhan.co.jp/
References
https://pikule.jp/which-is-the-root-of-nishin-soba-hokkaido-or-kyoto/
https://www.kitamae-bune.com/about/main/