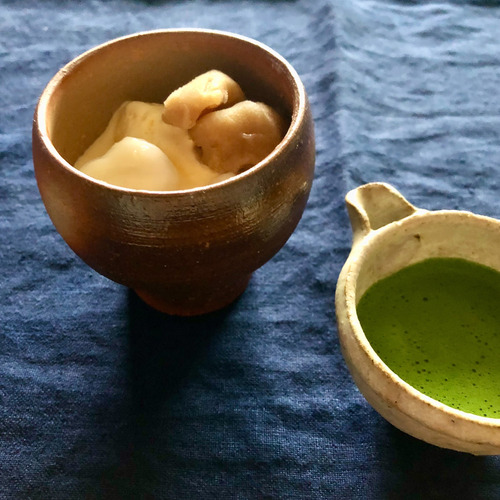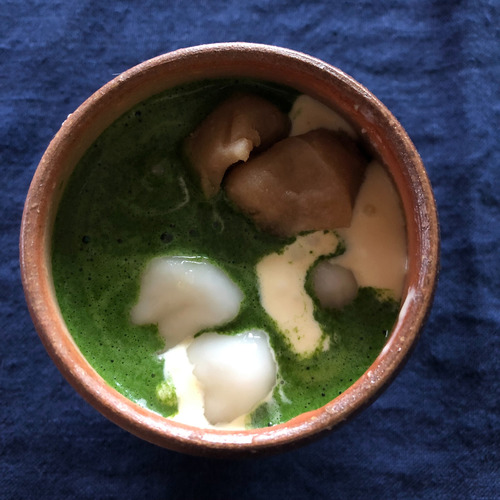 [Matcha Affogato]
Over the weekend, we decided to compare vanilla ice cream flavors, so we bought cups of ice cream from various manufacturers at a local mass merchandiser. Although they are the same vanilla ice cream, they have different richness and flavors, and we had a great time trying them. It was interesting to see how the individual flavors stood out when eaten simply or with a few modifications. A few drops of wine vinegar or olive oil were added to the ice cream, which is simple and easy to make, but it was worth the effort.
This morning, I served the leftover ice cream with quickly boiled shiratama (rice cake balls) and homemade shiroan (white bean paste), and poured thick matcha (powdered green tea) over the top to make a matcha affogato. Normally, espresso is used for this dish, but I wanted to try it after having an authentic and delicious cold matcha latte at a café in Europe where I stayed last month.
It is still hot and sunny in September, but when I poured it into the Ichiyougama's wine cup, it became an autumnal "omeza (wake-up sweets)". Please try it with your favorite vanilla ice cream.
Ichiyougama's Wine Cup
https://www.shokunin.com/en/ichiyou/wine.html
Pouring Matcha (Video)
https://www.youtube.com/shorts/neU5cvUO8b