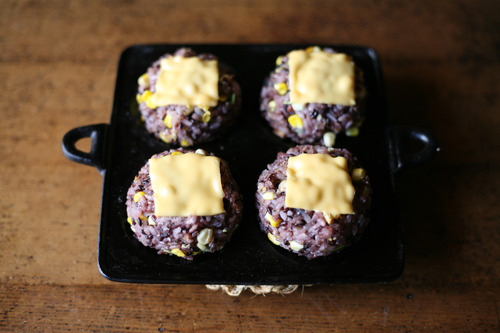 [Cheese Grilled Onigiri]
Rikucho Ogasawara's Onigiri Iron Plate, which was very popular and sold out of stock, is now back in stock. The photo shows grilled onigiris made by mixing a little leftover elote (Mexican grilled corn) with rice with ancient rice.
The corn, removed from the core, is sprinkled with powdered cheese, chopped coriander, a little lime, and mixed with rice, and for a secret ingredient, a little "Kurose's Spice" from Kashiwaya Kurose, a chicken specialty restaurant in Kitakyushu City, recommended by the staff at the Wakamatsu Showroom. The spicy flavor gives the dish a more intense taste. When both sides are thoroughly grilled, sprinkle the spice over the surface one last time and top with cheddar cheese. The result is a different grilled onigiri with a snack-like feel. Please move them to the table while still hot and enjoy the crunchy char and fluffy texture.
Rikucho Ogasawara is a brand of Nambu ironware designed by Mitsuyoshi Ogasawara, who was the representative of Ogasawara Foundry in Mizusawa, Oshu City, Iwate Prefecture. Onigiri Iron Plate excel in practical beauty and are considered one of the masterpieces among Mr. Ogasawara's works, which are rooted in daily life.
Rikucho Ogasawara's Onigiri Iron Plate
https://www.shokunin.com/en/rikucho/onigiri.html
Honma Kazuo Shoten's Straw Pot Stand M
https://www.shokunin.com/en/honma/nabeshiki.html
Mexican Street Corn "Elote"
https://jp.shokunin.com/archives/52013773.html