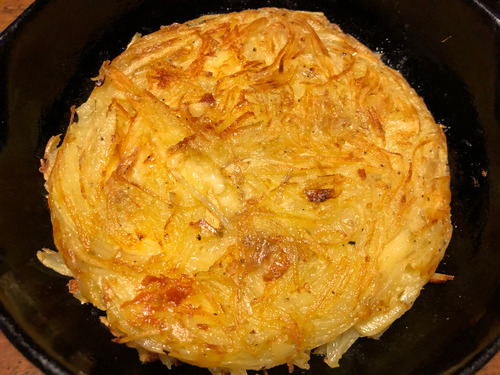 [Potato Galette Made with Yoshita Handi-Design Studio's Thin Julienne Peeler]
One of the attractions of the Yoshita Handi-Design Studio's thin julienne peeler is that it quickly catches fire when cutting food into fine shreds. It also allows you to enjoy the texture of the food while eating it. Of course, ease of use is also important, and the handle, which is formed by crushing a stainless steel round bar without using a mold, is characterized by its soft and comfortable feel in the hand. Being comfortable to use will help you enjoy your daily cooking in a good mood.
The recipe for which such a fine shredding peeler is useful is "potato galette. "Galette" is a general term for a type of French cuisine in which potatoes are baked in a round shape. Wash potatoes well, slice them into thin strips with a peeler, and without soaking them in water, quickly mix them with flour, salt, and black pepper. Sprinkle the potatoes with the pizza cheese, cover with the remaining potatoes, and cook over medium heat until browned, pressing down with a turner. Flip over and brown the same way, then the fried crispy galette is ready to serve. Serve with ketchup or sweet chili sauce.
Yoshita Handi-Design Studio's Thin Julienne Peeler
https://www.shokunin.com/en/yoshita/peeler.html
Rikucho Ogasawara's Frying Pan
https://www.shokunin.com/en/rikucho/fryingpan.html
Honma Kazuo Shoten's Straw Pot Stand
https://www.shokunin.com/en/honma/nabeshiki.html
References
https://ja.wikipedia.org/wiki/%E3%82%AC%E3%83%AC%E3%83%83%E3%83%88
https://www.kurashiru.com/recipes/69ddf833-538c-41d7-8703-98f3b3de1c82
(Recipe)