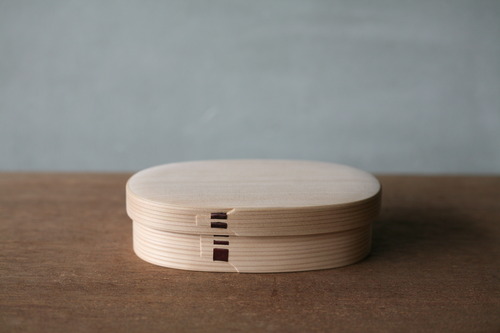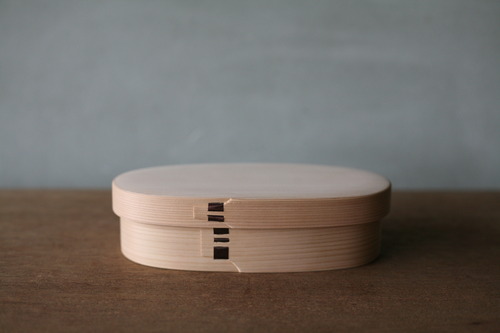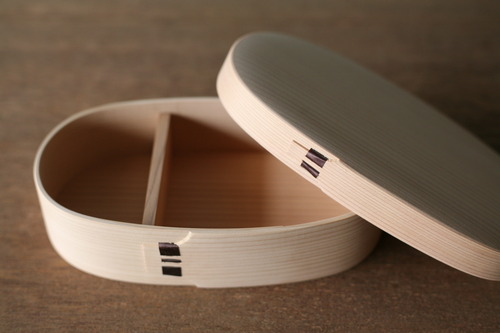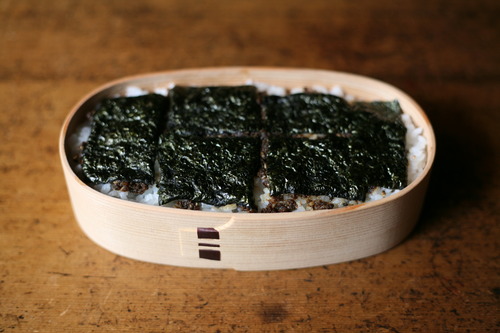 [Kurikyu's Magewappa Lunch Box (Unpainted)]
This is a lunch box with no paint on the entire surface, which we have specially requested to be produced by our store.
Before refrigerators and electric rice cookers were invented, magewappa was a tool for daily life filled with the wisdom of our ancestors, created with the idea of how to keep rice tasty and for as long as possible. It removes rough heat and excess moisture from freshly cooked rice and side dishes, making them taste even better. The sterilizing effect of the Akita Cedar also keeps the food from spoiling and keeps it tasty even after it cools down.
Odate Magewappa is said to have originated when a kikori (a woodcutter) made magewappa using cedar with parallel grains. The abundant forest resources of the Odate area enriched the finances of the feudal domain during the feudal era, and Odate Magewappa was also recommended as a domestic occupation for samurai warriors. These were transported to Sakata in Yamagata, Niigata, and then to Kanto region, where craftsmen passed down their techniques from the end of the Edo period to the present day.
Shunji Kurimori, the sixth generation of Kurikyu, has won the Good Design Award 17 times. From an interview with Mr. Kurimori, one can sense his strong respect for his father's predecessor, whom he refers to as "perfect." Inheriting the teachings of his father, he has been making magewappa with the aim of further evolving while preserving tradition.
Magewappa Lunch Boxes are made of plain wood inside and out, so they will change over time with age. Also, just like a Magewappa Ohitsu, you can enjoy delicious rice that has had the rough heat and excess moisture removed, and smells of Akita cedar. Our stock is limited, so you should act now before it is too late!
Kurikyu's Magewappa Lunch Box (Unpainted)
https://www.shokunin.com/en/kurikyu/mutosou.html
Reference
https://odate-magewappa.com/history/