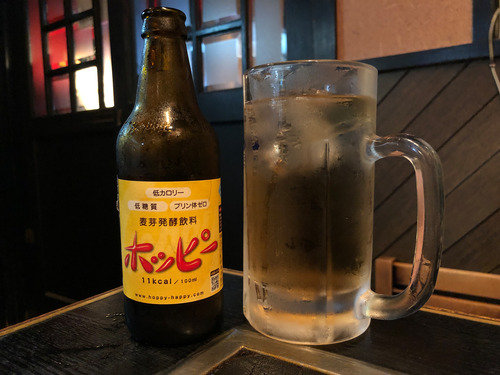 [Hoppy Makes Me Happy!]
"Hoppy" is a drink that sounds kind of fun, and sounds like "happy". Many of you may have seen it on the menus of pubs and restaurants in Japan, and many of you may even say that you are a big fan. The research and development of Hoppy was initiated by Hide Ishiwatari, founder of the current Hoppy Beverage Company, following the popularity of non-beer (non-alcoholic beer) in the Taisho era. Although its development was completed before the war, full-scale production and sales of Hoppy began in 1948 after the war ended. The "original beer-like refreshing beverage" from Akasaka, Tokyo, an ultra-long seller that has been loved for over 70 years, is made mainly from malt and hops, and the production process is identical to that of beer. It is a low-alcohol beverage with an alcohol content of 0.8%, one-fourth the calories of beer, low in sugar, and zero purine, which is said to cause gout, making it a "happy" drink for health-conscious people.
It was initially called "Hobbie," meaning "non-beer with real hops." However, the word was difficult to say, and it evolved to "Hoppy" just before its public launch. And it was marketed mainly in the black market areas of Shinbashi and Ikebukuro. After the war, beer was a luxury item unaffordable to the common man, and most common liquors were inferior. Hoppy was accepted by people explosively because it tasted good when mixed with inferior alcohol. And it was said to be a "helpful beverage" that supported the spirits of our forefathers who quickly rose from the defeat of the war and strived for the reconstruction of Japan.
The most popular way to drink Hoppy is to mix Hoppy with shochu. Another standard style of drinking is the Hoppy set, in which the bottle of Hoppy is called "soto" and the shochu and mug (or glass) is called "naka." You pour Hoppy into the mug filled with shochu, refill "naka" when you finish drinking, and refill "soto" when you run out of Hoppy. One of the reasons for Hoppy's popularity is that you can enjoy it the way you like to drink it, whether thick or thin. Also, instead of adding ice, keep the Hoppy, shochu, and mug of shochu very cold to keep it chilled and allow the flavors and tastes to linger longer.
Tokyo-born Hoppy expanded to New York in 2013. As part of its corporate activities, it contributes to the development of Japanese culture overseas through global activities, such as holding annual events to introduce Japanese food and beverage culture and traditional performing arts to New Yorkers. "Happy Hoppy"! When you hear such a voice on a street corner around the world, it may be a happy moment that Japan and the world are connected by a toast.
Nousaku's Beer Cup
https://www.shokunin.com/en/nousaku/glass.html
Tazuru (Kamigyo-ku, Kyoto) *Location of the Hoppy in the photo
https://goo.gl/maps/fNLYNvp1kH25sr9EA
References
https://en.hoppy-happy.com/
https://hoppy-hoppy.com/hoppy-
nomikata#:~:text=%E3%83%9B%E3%83%83%E3%83%94%E3%83%BC%E3%82%BB%E3%83%83%E3%83%88%E3%81%AE%E5%A4%96%EF%BC%88%E3%82%BD%E3%83%88%EF%BC%89%E3%81%A8%E4%B8%AD%EF%BC%88%E3%83%8A%E3%82%AB%EF%BC%89,-%E5%A4%9A%E3%81%8F%E3%81%AE%E3%81%8A&text=%E3%83%9B%E3%83%83%E3%83%94%E3%83%BC1%E6%9C%AC%E3%81%A7%E3%80%81%E4%B8%80%E8%88%AC,%E3%81%93%E3%82%8C%E3%81%A0%E3%81%91%E3%81%A7%E3%81%99%E3%80%82