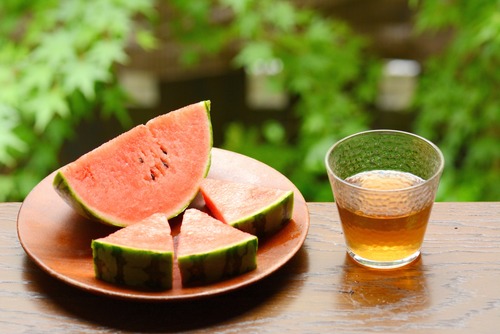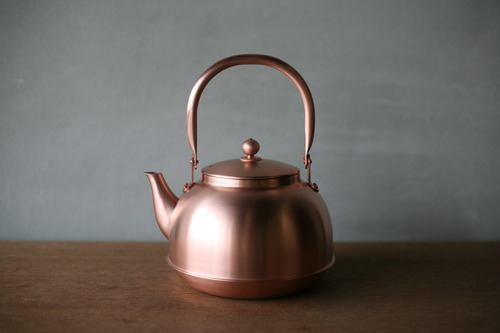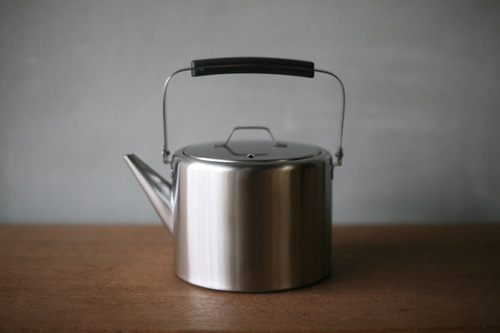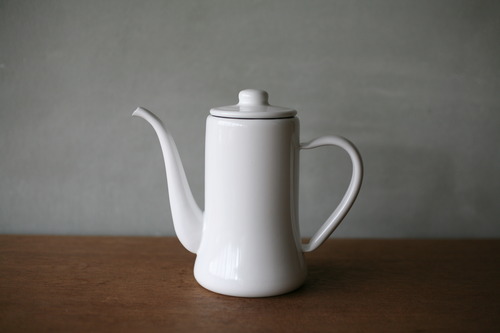 [Mugicha and Kettle]
Mugicha (barley tea) is a popular drink made in a kettle during the hot summer months in Japan. While barley tea is easily brewed in water, the tea made by boiling it in a kettle has a rich aroma and deep flavor. Alkylpyrazine, the component of its fragrant aroma, promotes blood flow and has a relaxing effect. It also lowers body temperature and has antioxidant properties. Mugicha is an ideal beverage for frequent rehydration during the summer months when people sweat a lot, to prevent stroke caused by dehydration, and to prevent heat stroke.
Mugicha has been consumed since the Heian period (794-1192). In the Edo period (1603-1867), it was called "mugi-yu," and at that time it was drunk warm. It was a summer drink because barley was harvested in early summer and the freshly harvested barley was delicious when roasted. You don't see it these days, but some people used to drink thick barley tea with milk and sugar, like Milo, a malt beverage. There is also "barley coffee," a caffeine-free substitute for coffee overseas.
These kettles can be used to make plenty of barley tea, and they come in a variety of materials: stainless steel, enamel, copper, and iron. All are beautiful to look at, functional, and highly recommended.
Azmaya's Copper Kettle
https://www.shokunin.com/en/azmaya/yakan.html
Kobo Aizawa's Straight Kettle
https://www.shokunin.com/en/aizawa/kettle.html
Tsukiusagi's Slim Pot
https://www.shokunin.com/en/tsukiusagi/
References
https://ja.wikipedia.org/wiki/
麦茶
https://ja.wikipedia.org/wiki/
オオムギ
https://www.hakubaku.co.jp/omugi-lab/maintenance/mugicha/