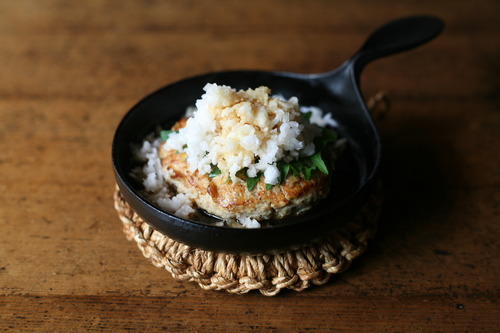 [Tofu and Minced Chicken Hamburger Steak with Grated Daikon Radish]
Rikucho Ogasawara's Mini Pan is perfect for one person's hamburger steak. Brown the hamburger steak over medium heat, then cover with a lid and steam slowly over low heat to cook the inside of the hamburger steak thoroughly. While grilling, grate daikon radish with an onioroshi and serve directly on the table with ponzu (Japanese sauce made from ponzu citrus juice). How about a tofu and minced chicken hamburger steak with grated daikon radish in the hot summer?
The hamburger steak has a soft and fluffy texture and is easy to prepare whenever you want to eat it, without using chopped onions or eggs. Ground chicken contains high quality protein and is also said to be high in essential amino acids, which cannot be synthesized in the body. Combined with tofu, it is a low-calorie, high-protein product that is recommended for those who want to lose weight while retaining muscle. In addition, daikon radish is rich in digestive enzymes, which help tone the gastrointestinal tract and promote food digestion and absorption.
Both good taste and good health are necessary for a full life. If you did your best today, treat yourself with delicious food. Sometimes stopping and looking back, or trying to find a living tool that suits your lifestyle may be an opportunity to update your daily life.
Rikucho Ogasawara's Mini Pan
https://www.shokunin.com/en/rikucho/minipan.html
Honma Kazuo Shoten's Straw Pot Stand S
https://www.shokunin.com/en/honma/nabeshiki.html
Kagoshima Takeseihin's Onioroshi
https://www.shokunin.com/en/kagoshima/onioroshi.html
References
https://www.kyounoryouri.jp/recipe/15985_%E9%B6%8F%E3%81%B2%E3%81%8D%E8%82%89%E3%81%A8%E8%B1%86%E8%85%90%E3%81%AE%E3%83%8F%E3%83%B3%E3%83%90%E3%83%BC%E3%82%B0.html
(Recipe)
https://www.olive-hitomawashi.com/column/2021/02/post-13471.html
https://www.kanagawa-triathlon.jp/daikonorosi-mainichi-kouka/
https://ja.wikipedia.org/wiki/%E3%83%80%E3%82%A4%E3%82%B3%E3%83%B3