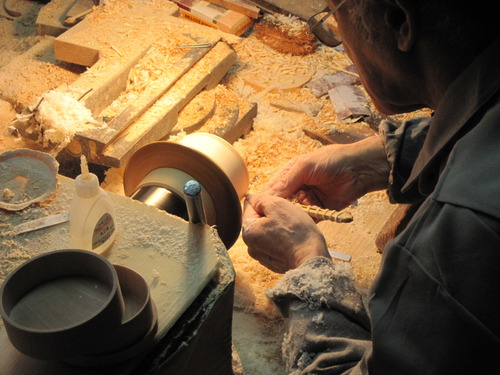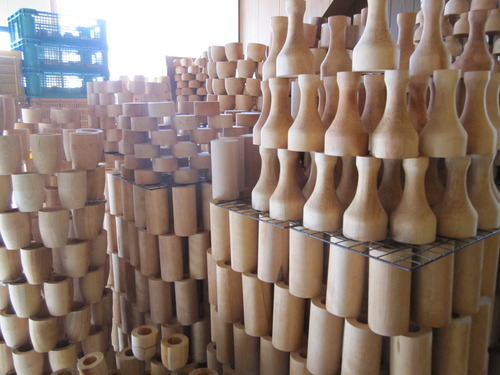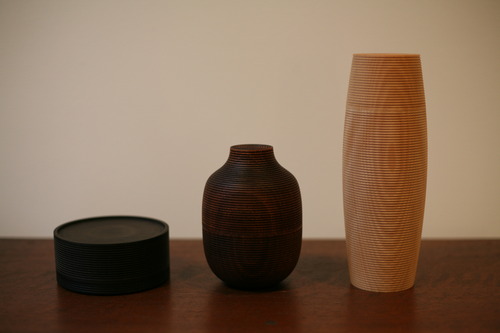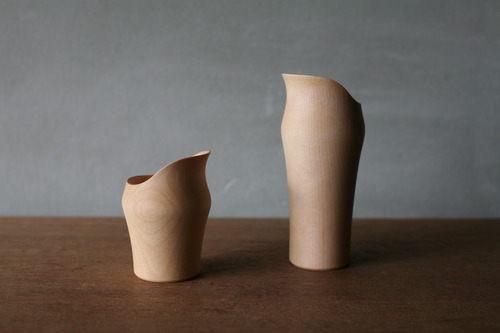 [Yamanaka Lacquerware and Gato Mikio Shoten]
Yamanaka lacquerware is a general term for lacquerware made in the Yamanaka Onsen area of Kaga City, Ishikawa Prefecture. Yamanaka is one of the three major lacquerware production areas in Ishikawa Prefecture, and is known as "Wajima for lacquering," "Kanazawa for maki-e," and "Yamanaka for woodwork."
Yamanaka lacquerware is made using the vertical cutting method, in which the raw wood is cut into round slices and then the wood is extracted, resulting in a robust structure that is not easily distorted by drying. This made it possible for Yamanaka lacquerware to use elaborate techniques of wheel turning, a technique in which Yamanaka lacquerware excels, and to apply detailed decorations such as thin grinding, lids, and "decorative grinding," in which a knife is turned on a potter's wheel to apply a pattern to the wood.
It is said that the craftsmanship began in the latter half of the 16th century, when wood craftsmen settled in Manago, upstream from Yamanaka Onsen (hot spring). Later, maki-e and lacquer techniques were introduced from Kyoto and Kanazawa, and the industry developed, becoming Japan's largest producer of hikimono kijishi (craftsmen of woodworking).
Gado Mikio Shoten was founded in 1908 as Gato Mokkojo in Yamanaka Onsen, a town of woodturning.
The company has been making lacquerware based on the philosophy of "fueki ryuko," which is one of Matsuo Basho's haikai principles, that is, to carry on unchanging traditions while constantly incorporating new ideas is the essence of "fueki ryuko." The spirit and techniques that the merchants and craftsmen of Yamanaka lacquerware have accumulated over the course of their history are considered "unchangeable," while the constant transformation of their practices is considered "fashionable."
Karmi, also taken from Basho's haikai philosophy of "karumi (lightness)," is a beautiful design that exudes from within, expressing beauty found in everyday life without elaborate knowledge or technique.
The concentric circles created by the rokuro process give the vessels a lean silhouette based on the Japanese aesthetic of harmony, and the finely decorated surface and precision work on the lids show the tradition of Yamanaka lacquerware.
The three colors are Soji, Fuki, and Sumi. Fuki, in particular, has a "fuki-urushi" finish, in which transparent lacquer called ki-urushi is repeatedly applied and wiped off with a cloth, allowing you to enjoy the transparency of the lacquer texture.
The supple shape of the "Kakusen" katakuchi was inspired by the scenic "Kakusenkei" stream in Yamanaka Onsen. The thinly finished spout and exquisite curves that fit comfortably in the hand combine beauty and practicality in an eye-catching design. The grain created by the vertical grain pattern is reminiscent of a water pattern.
Both Karmi and Kakusen are currently on display and for sale at the Sanjo Showroom. Please take a look at the smooth texture and exquisite workmanship of the woodturning process.
Gato Mikio Shoten's Karmi Tea Canisters
https://www.shokunin.com/en/gato/karmi.html
Gato Mikio Shoten's Katakuchi Kakusen
https://www.shokunin.com/en/gato/kakusen.html
Sanjo Showroom
https://www.shokunin.com/en/showroom/sanjo.html
Reference
https://www.gatomikio.jp
http://www.icnet.or.jp/dentou/national/04.html
https://www.yamanakashikki.com/about/