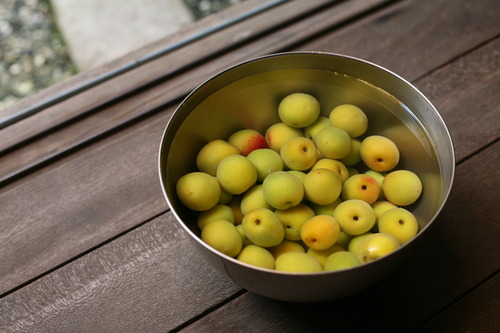 [In the Season of Plum Work]
When we see the freshly colored plums on the supermarket shelves, we often stop for a while in front of the plum section as all sorts of thoughts rush through our mind: shall we do plum work again this year, what should we prepare, what is our schedule, and so on. It is not so difficult to buy only a little, so we decided to buy 1kg first, and that 1kg turned into 2kg, then 3kg, and the aroma of plums in the kitchen grows stronger day by day, which is one of the pleasures of this season.
The plums we bought were allowed to ripen in cardboard boxes for a couple of days and were recently pre-soaked for pickled plums. We use Sori Yanagi's Stainless Steel Bowl for washing plums. For small amounts to 1.5 kg, we recommend the 23cm shown in the photo or the 27 cm, which has more room. After wiping off the water, dry the plums thoroughly and pack them with salt in the prepared storage containers.
We started working with plums a few years ago. There are many things we learn for the first time, and each season is full of encounters with new discoveries.
Sori Yanagi's Stainless Steel Bowl 23cm
https://www.shokunin.com/en/yanagisori/bowl.html
Reference
https://www.umekenkyuukai.org/have-fun/calendar.html