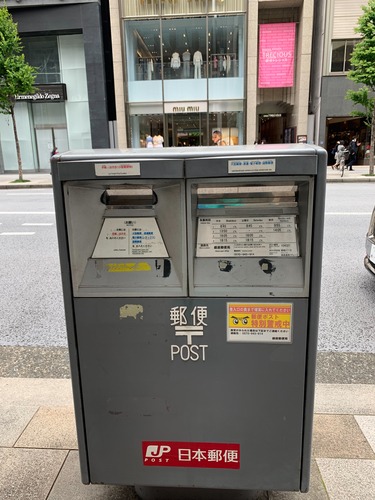 [Postbox in Ginza]
Postboxes are now ubiquitous throughout Japan. So why is red the most common color for postboxes in Japan?
In some tourist areas, you can now see non-red postboxes to avoid spoiling the scenery. The postbox in front of the Ginza Post Office on the sidewalk in Chuo-dori, Ginza 2-chome, is gray. The postbox on Namiki-dori is green. The postbox next to Mitsukoshi is red. You can see postboxes in three colors just in Ginza.
The first postbox in Japan was created in 1871, when the postal system began. At first, it appears to have been a "black postbox" made of cedar board combined like a square postbox, with steel plates stretched over the corners and painted black. Black postboxes were used for about 30 years. In 1901, a red, conspicuous iron postbox was introduced on a trial basis because it was difficult to see at night due to inadequate street lighting and other improvements at the time, and for fireproofing reasons.
Do you remember the old days when red postboxes were round? They were round in shape so as not to obstruct the passage and not to hurt people if they bumped into each other. What a very kind reason. Later, as demand increased, it seems that the postbox was transformed into its current form in order to increase capacity and for convenience of loading and unloading.
Even the postboxes that are so familiar to us in our daily lives have such a history. It may be fun to walk slowly through the streets of Ginza and find three different colors of postboxes.
Ginza Showroom (Open from 12:00-18:00 on Friday, Saturday, Sunday, and Monday)
https://www.shokunin.com/en/showroom/ginza.html
References
https://www.postalmuseum.jp/column/transition/post_10.html