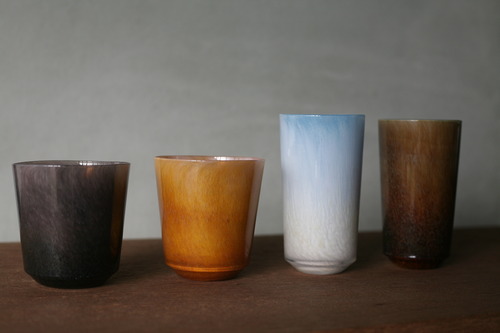 Fresco, a glass craft studio in Izumi City, Osaka Prefecture, was started in 2005 by Mr. Tsuyoshi Tsujino, a glass craft artist, based on his more than 20 years of experience in glass craft techniques. Among the many products created by fresco, whose theme is to combine the "reliability" and "originality" which a brand of handmade products comprise, "dan," each of which differs in color and height, is a product that truly achieves this theme.
Dan have a unique texture created by layering a palette of colors on transparent glass. Each of these one-of-a-kind glasses, produced by such glass-blowing techniques, has its own unique color and expression. This tasteful glassware can be used in beer glasses or as a container for soft drinks such as orange juice.
From the beginning to the end of the day, why not savor the charm that can be experienced only from a vessel with sparse colors and beautiful gradations?
Fresco's Dan
https://www.shokunin.com/en/fresco/dan.html