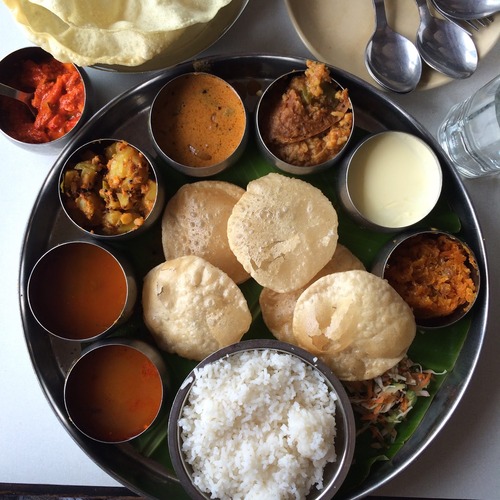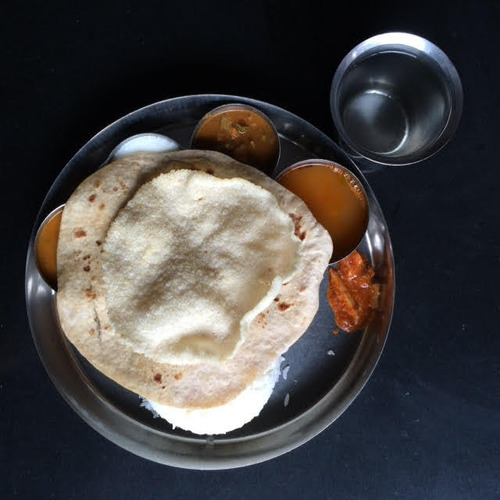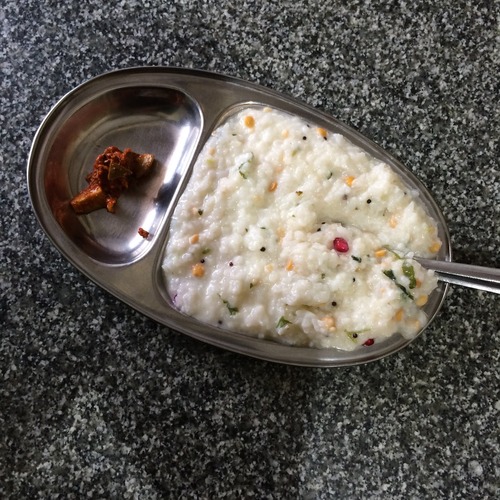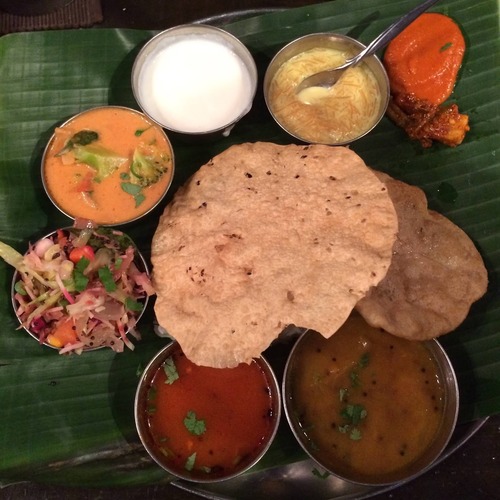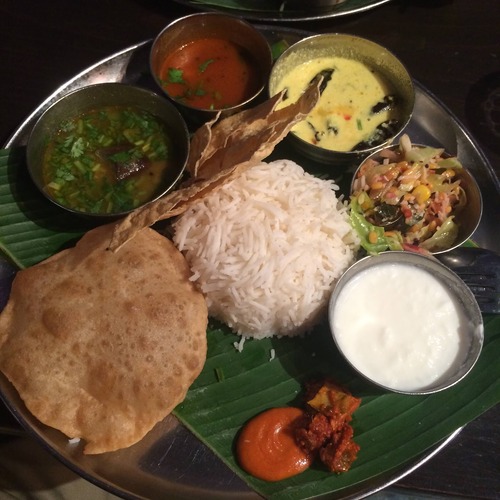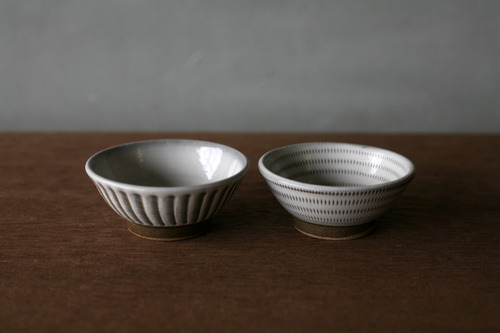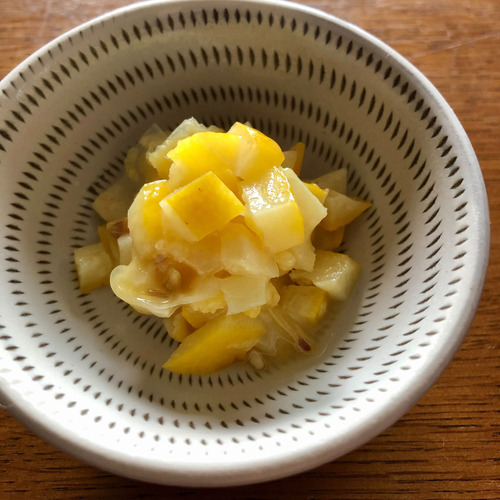 [Indian Pickles, Achar] 
A side dish to set meals called meals or thali in Indian cuisine is a pickle called achar, which is similar to fukujinzuke in Japan. The word is derived from the Portuguese word "achar," meaning pickled vegetables or fruits. There is a Japanese pickle called "achara-zuke," a local dish eaten mainly in Fukuoka Prefecture around the time of the Bon Festival, which also has the same origin and was introduced to Japan through the Nanban trade in the early modern period. There is a theory that "achara-zuke" was named after the word "achira," which represents a namban-style pickle meaning "over there," which is a foreign country. There are several derivations of "achar," including "achara" in the Philippines and Indonesia, "charre" in Nepal, and "ochor" in Afghanistan.
Achar, marinated in salt, oil, and spices, was a preserved food for long-term storage at room temperature. In addition to vegetables and fruits, food items include eggs, meat and fish, and are also called "urugai" or "pickle." Other than achar, curry accompaniments include "chutney," which is a kind of jam or sauce, "dahi (curd)," which is just yogurt, and "raita," which is almost like a yogurt salad. They all adjust the spiciness to the flavor of the curry, add depth of flavor, or serve as a palate cleanser or food enhancer.
In Japan, in the past, achar, which looks like pickled onions, and chutney, which looks like mango jam, were the most common accompaniments at Indian restaurants, but in recent years, as the number of South Indian restaurants has increased, many different types have become commonplace.
There are many Indian restaurants in the vicinity of our Ginza Showroom. Pictured is Dhaba India's meals achar with mango pickles. Very sour mango pickles are made from unripe sour blue mangoes, salt, spices and oil. Mango pickles go well with yogurt rice, known as "curd rice" in South Indian cuisine. It is like an Indian version of pickled plum porridge. It is probably because of the hot weather that spicy and sour foods are so refreshing. When you eat Indian curry, please enjoy the combination with achar.
Mamekobachi, perfect for holding rakkyo or achar, are Koishiwara ware from Fukuoka Prefecture. The technique known as "tobikanna" or "hakeme" is a pattern that is regularly added using the tip of the blade or a brush while the vessel is being turned on the potter's wheel. The warm, rustic vessel will go well with pickles of any ingredients.
Koishiwara ware's Mamekobachi
https://www.shokunin.com/en/koishiwara/mame.html
Dhaba India
http://dhabaindiatokyo.com
References
https://ja.wikipedia.org/wiki/
アチャール
https://ja.wikipedia.org/wiki/
ライタ
https://ja.wikipedia.org/wiki/
チャツネ
https://www.maff.go.jp/j/keikaku/syokubunka/k_ryouri/search_menu/menu/acyara_zuke_fukuoka.html