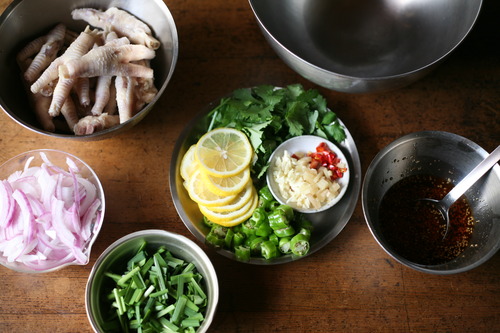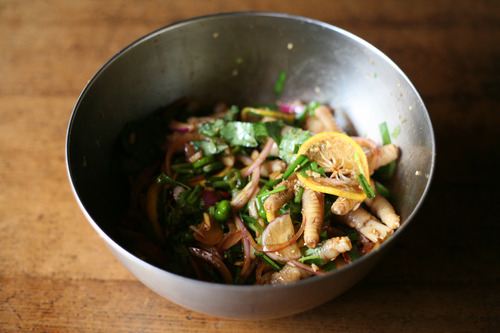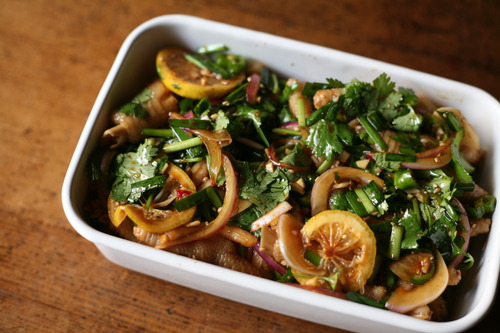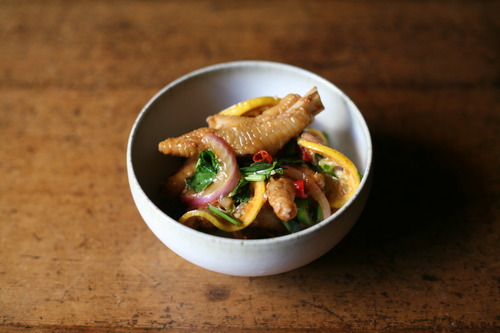 [Lemon Chili Chicken Feet]
The Chinese staff at Shokunin.com are unanimous in their praise of the delicious "chicken feet." As you can read, it is the leg part of a chicken, also known as "momiji" in Japan. We heard that it is full of collagen and good for beauty, that it is used to eat it as a snack, and that it goes really well with beer, so we wanted to try it someday and was able to purchase chicken feet at a business supermarket.
Although the cooking process is a bit time-consuming, the chicken feet were delicious and plump in texture after marinating for more than a day. In addition to China, chicken feet are also eaten daily in Vietnam and South Korea, and are popular as a snack in South Korea.
Lemon chili chicken feet, with refreshing lemon and chili flavor, is a dish that has become popular nationwide by combining the Chongqing dish "chicken feet with pickled peppers" and lemons from Yunnan, where the lemons are grown. There are many cooking videos on YouTube, so if you are interested, why not try making it on your days off?
(Ingredients)
Chicken feet 560g in this case
White spring onion green part
Fine green onion
Ginger
Garlic
7 green chili peppers (or shishito peppers if not available)
Red pepper to taste
Sichuan pepper or Sansho
1/2 of lemon
3 bunches of pak choi
1/2 medium red onion
(Seasoning liquid)
Chinese chili oil
Sesame oil
*Vinegar
*Soy sauce
*Salt
*Sugar
Chinese black soy sauce
Cold water
Ponzu can be substituted for *
(How to make)
1. Cut off the claw part of the chicken feet with a knife. Scrape off the black part of the sole.
2. Sprinkle 2g of baking soda (or salt), rub, and rinse several times with water. Rinse until the water becomes clear.
3. Fill a pot with clean cold water, add chicken feet and heat from low heat.
4. Boil once after it comes to a boil.
5. Fill the pot with fresh water, add the sliced ginger, green part of the white spring onion, and cooking sake, and heat again.
6. Bring to a boil with the lid open.
7. Slice chilies into rounds and place in a bowl. Slice or mince the garlic.
8. Cut the pak choi and spring onions into 1.5 cm pieces, and the lemon and red onion into thin slices.
9. Prepare the seasoning liquid. Mix raayu, sesame oil, vinegar, soy sauce, salt, sugar to taste, and cold water to dissolve well.
10. Stir until seasoning is dissolved. The seasoning liquid should be enough to soak the chicken feet.
11. Bring to a boil, remove scum, cover and simmer over medium-low heat for 8 minutes.
12. Remove chicken feet and place in ice water to cool for 2 minutes.
13. Drain in a colander and pat dry with kitchen paper.
14. Place chicken feet in a bowl.
15. Add vegetables and seasoning liquid and mix by hand (wear gloves as it stains).
16. If available, add Chinese black soy sauce to add color.
17. Refrigerate for 3 hours or overnight.
18. Balance the chicken feet and vegetables on a plate.
Sori Yanagi's Stainless Steel Bowl 23cm
https://www.shokunin.com/en/yanagisori/bowl.html
Noda Horo's Rectangle Deep L with a Lid (WRF-L)
https://www.shokunin.com/en/noda/
Seiryugama's Kobachi L
https://www.shokunin.com/en/seiryu/kobachi.html
Reference
https://www.youtube.com/watch?v=UzXbKiowt4c
 (Recipe)