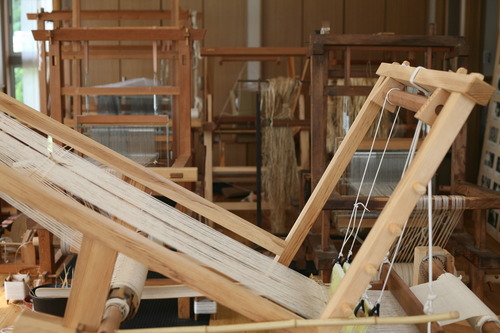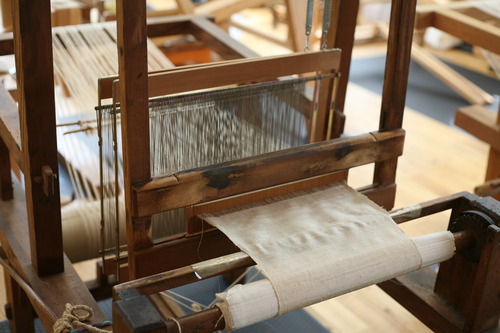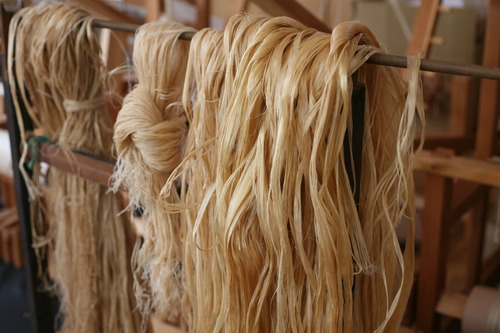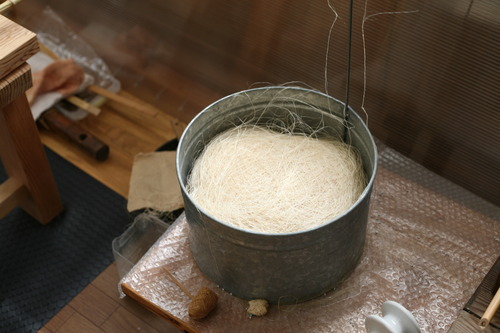 "Nara-sarashi" is synonymous with high-grade hemp fabrics. It is known that Nara-sarashi was already being used for hemp weaving in the late Muromachi period, as it is mentioned in the "Tamonin Nikki" (1549), but it was not until the Edo period that it was established as a commercial production. By the middle of the Edo period, it is said that about 90% of the residents of Naramachi were related in some way to Nara-sarashi. Recognized as an official product of the Tokugawa Shogunate, Tokugawa Ieyasu made it an official product and established a system to seize and control the production and sale of Nara-sarashi. It was such a growing industry.
The hemp threads are carefully woven together over a period of about a month, and the pure white, cool appearance of the hemp cloth is completed by the clear streams of the valley, and it has been said that Echigo-jofu comes from snow as its mother, while Nara-sarashi comes from the running water of rocks. Its neat and graceful texture has been used for Kyogen and Bugaku costumes since ancient times, as well as for a variety of other purposes, making it useful in our daily lives today.
Okai Mafu Shoten's Linen Dish Towel is sewn over woven mosquito net cloth, which absorbs water well and becomes softer and more comfortable in the hand as it is used. Hemp has longer fibers and less fluff than cotton, making it suitable for wiping dishes. Compared to cotton, it has about four times the water supply and twice the strength and lasts longer. It also has excellent wicking properties and dries quickly. It can be used for a long time, starting as a dish cloth, then as a kitchen cloth, and finally as a dust cloth.
Okai Mafu Shoten's Linen Dish Towel
https://www.shokunin.com/en/okai/fukin.html
References
https://mafu-okai.com/narasarashi
https://www.city.nara.lg.jp/soshiki/109/2556.html