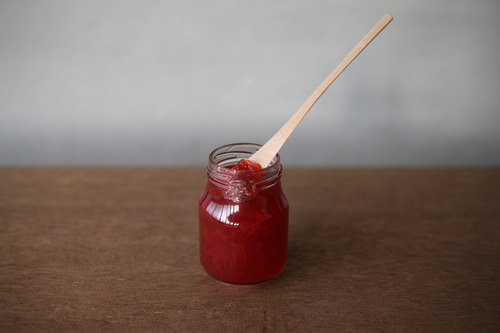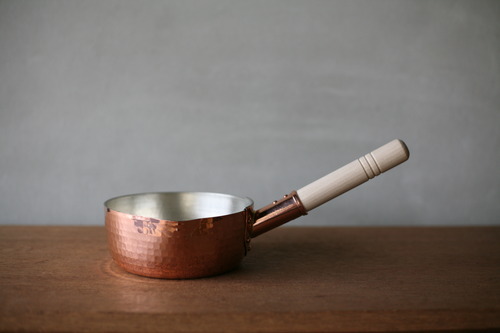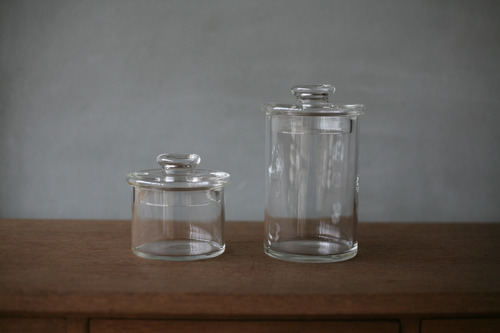 [Make My Flavor Jam]
Do you know the difference between "jam" and "confiture?" "Jam" is an English word and "confiture" is a French word, and, specifically, "jam" is when the fruit is boiled down to a jelly-like consistency, while "confiture" is when it is light and preserves the shape of the fruit to some extent.
The jelly-like thickening characteristic of jam is produced when acid and sugar mix with pectin, which is abundant in fruit peels. Jam, as the name implies, seems to be sizzling and concentrated. Confiture uses less sugar than jam, and this one is derived from the French word "confit" meaning "to marinate in oil or sugar" and its preparation method.
Professional pastry chefs and other confectioners use copper pots for jams because their high thermal conductivity allows them to cook evenly in a short time, resulting in bright colors and fresh, flavorful results.
For home cooking, it is nice to have the freedom to turn unsweetened or uneaten fruit into jam, or use your own preferred sugar, without having to buy it for preserving purposes. We think the joy of cooking is to create "my taste" with ingenuity.
Nakamura Douki's Yukihira Pot
https://www.shokunin.com/en/nakamuradouki/yukihira.html
Okubo House Mokkosha's Jam Spoon
https://www.shokunin.com/en/okubo/jam.html
Koizumi Glass's Canister
https://www.shokunin.com/en/koizumi/canister.html
References
https://theokuratokyo.jp/letter/pastry/article-05/#:~:text=%E3%82%B8%E3%83%A3%E3%83%A0%E3%81%AF%E8%8B%B1%E8%AA%9E%E3%81%A7%E3%80%8C%E8%A9%B0%E3%82%81%E8%BE%BC%E3%82%80,%E3%81%A6%E3%81%84%E3%81%AA%E3%81%84%E3%81%93%E3%81%A8%E3%82%82%E3%81%82%E3%82%8A%E3%81%BE%E3%81%99%E3%80%82
https://kinarino.jp/cat4-
グルメ/13350-覚えておきたいね%E3%80%82旬の果物を使ったジャムの作り方%E3%80%82
https://www.olive-hitomawashi.com/column/2018/11/post-2762.html
https://www.1101.com/store/oragajam/2014/recipe_ac.html