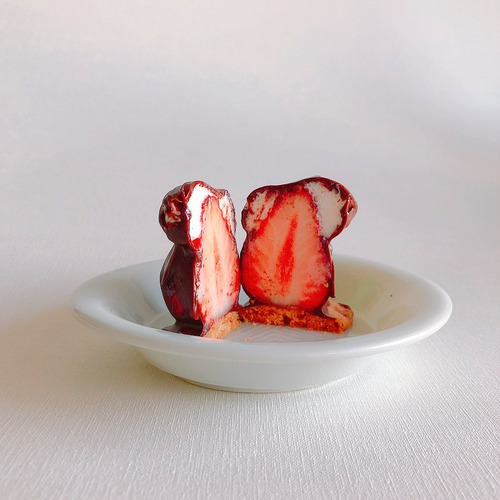 [Strawberry Chandelier]
Ozawa Yogashiten has had a store in Hongo for 50 years.
Strawberry Chandelier is named after the appearance of strawberries covered with a hat of whipped cream, repeatedly dipped in chocolate, and combined with a cookie dough rich in butter and eggs, which looks like a chandelier.
They come in three sizes: small, large, and extra-large, and we tend to buy more than one kind. The strawberries inside are very juicy and tasty, and the appearance is lovely, making this a small but relaxing sweet to enjoy.
In addition to Strawberry Chandelier, the store also sells cakes, cream puffs, eclairs, and baked goods, making it a place you will want to return to again and again.
Bunkyo-ku, where Ozawa Yogashiten is located, was home to many samurai residences in the Edo period, and the Yushima and Hongo areas, which are along the main road, the Nakasendo road leading to the Itabashi Inn, and the Hakusan and Nezu areas, which were temple and shrine gate towns, were lined with stores and developed a variety of commerce, and many stores selling delicious food can still be found there. Nearby are Yushima Tenmangu Shrine, a curry store that is a popular coffee shop for Todai students, and an apple pie store that has so many fans throughout Japan. It's a great area for a walk.
Ozawa Yogashiten is only a 20-minute train ride from our Ginza Showroom, so why not visit it as well?
Ozawa Yogashiten
https://goo.gl/maps/TC8YVcxyu3Fsdf3f9
Ginza Showroom (Open from 9:00-18:00 on Friday, Saturday, Sunday, and Monday)
https://www.shokunin.com/en/showroom/ginza.html
References
https://www.enjoytokyo.jp/article/110268/
https://www.bunkyo-gourmet.jp/about/