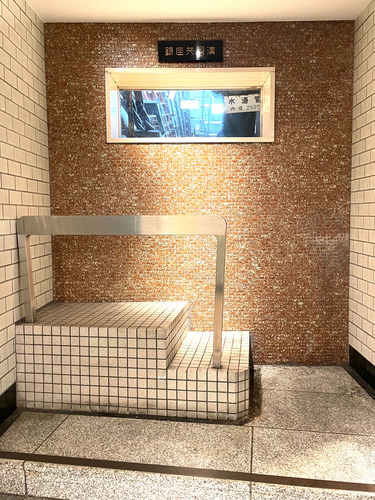 [A Small Peephole in Ginza]
The peephole is located next to the basement entrance of Matsuya Ginza. There are not many people peeking in. Because, in contrast to the brilliant hustle and bustle of the earth, this is one corner that emits an aura that is unapproachable. For some reason, it also takes a little courage to put one's foot on the two-step staircase to look through that peephole. But please take a peek. Beyond the peephole, labeled "Ginza Utility Tunnel," you will encounter the achievements of Ginza's forebears, the people behind the scenes.
There, 2.4m high and 2.8m wide, an underground communal trench extends further down from 50cm below the pavement. The utility tunnel was constructed under the sidewalks on both sides of Ginza 1-chome to 8-chome by the Ministry of Construction in 1968. Gas, water, and sewage systems necessary for department stores and stores in Ginza, as well as signal, power, and telephone line cables for the Metropolitan Police Department are also lined up. This utility tunnel allows for maintenance and management without having to dig up the road every so often, and allows people to walk comfortably on the beautifully paved streets of Ginza.
The world's first utility tunnel was completed in Paris, France. The plan to accommodate lifelines under all public roads was initiated as a countermeasure against the cholera epidemic, and has supported the development of Paris. In Japan, the first three were built in 1925, after the Great Kanto Earthquake, as part of the reconstruction project of the Imperial Capital, at Kudanzaka, Yaesu-dori, and Hamamatsu Kinza-dori. Near Ginza, this viewing window is also located near Exit B1 of Nihonbashi Station on the Ginza Subway Line, where you can look inside.
This kind of underground scenery is not particularly rare, as seen on TV, but it is an interesting sight to see it displayed at the entrance of a department store. We think this is a very good exhibit for children to see how the city actually works at any given time, what is going on under the sidewalks, and for children to get a background on life in the city.
Since learning of this peephole, we have walked past it muttering to ourselves, "Oh, no one is peeking in today."
Ginza Showroom (Open from 12:00-18:00 on Friday, Saturday, Sunday, and Monday)
https://www.shokunin.com/en/showroom/ginza.html
References
http://tkyw.jp/archives/1781667.html
https://www.ktr.mlit.go.jp/toukoku/toukoku00035.html