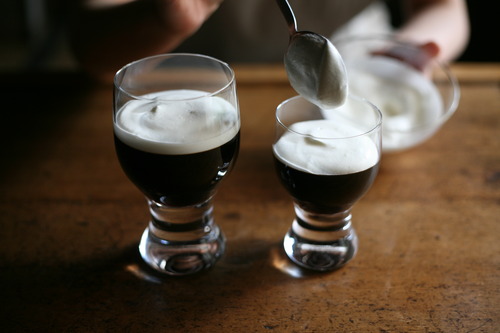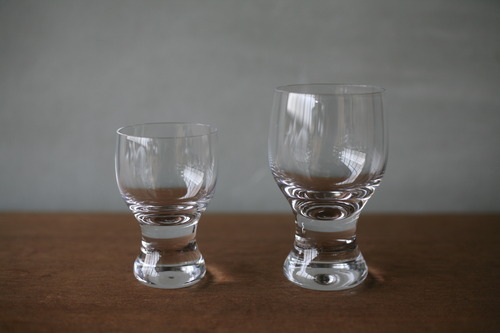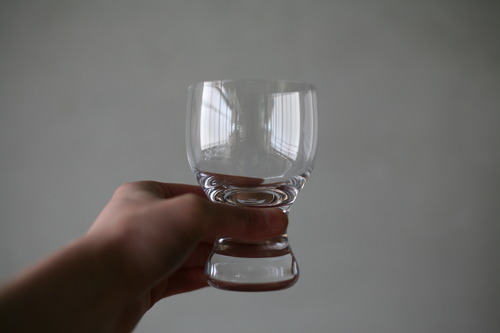 [Dessert in a Glass of Wine]
The eldest son of Muneyoshi Yanagi, a leading figure in the folk art movement, Sori Yanagi is an industrial designer who has created numerous masterpieces. He has designed furniture, kitchen tools, tableware, and other objects of daily life. The design method is an honest one, always from the user's point of view, and involves thinking while making models by hand. His anonymous product may be seen or used somewhere without realizing it. And when you actually use it, you cannot help but feel its functional beauty.
Did you know that there is a wine glass designed by Sori Yanagi? The Sori Yanagi Wine Glass, designed in 1979, was reissued by Hirota Glass, one of the oldest glass manufacturers in Japan. The uniquely shaped wine glass, with its thick bottom, chunky texture, and stability, may be used as a dessert bowl as well.
This coffee jelly is made simply by dissolving gelatin in thickly brewed drip coffee, letting it harden in the refrigerator, and then topping it with loosely whipped cream. Dare to taste the coffee unsweetened, and adjust the sweetness to your liking with sugared cream or syrup. It is a bittersweet adult coffee jelly with a nostalgic, somewhat old-fashioned flavor, like something you might find on the menu at a pure coffee shop.
In addition to coffee jelly, it can also be used as a vessel for Italian affogato, which is vanilla ice cream with espresso, or parfait of ice cream with sake added and seasonal fruit.
The free imagination and playful spirit would expand the use of a single vessel in numerous ways.
Hirota Glass's Sori Yanagi Wine Glass
https://www.shokunin.com/en/hirota/wine.html
References
https://www.nhk.or.jp/kamado/recipe/103.html
 (Recipe)
https://magazine.asahi-shuzo.co.jp/enjoy/249