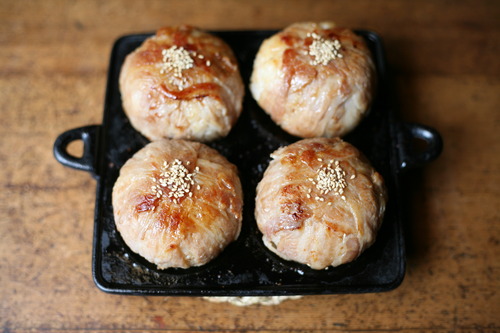 [Meat-rolled Rice Ball]
This is a meat-rolled rice ball we made the other day, a local delicacy from Miyazaki City, Miyazaki Prefecture. This time, we tried again, making the rice balls even bigger and using more pork.
After marinating the pork in the sauce and wrapping it around the rice ball, coat the surface with a small amount of water-soluble potato starch to keep the pork from falling off the rice ball even when it is turned over. After browning the surface of the pork with a brush and applying the sauce, the pork on the sides is cooked and topped with white sesame seeds. In addition to sesame seeds, the rice balls can also be arranged by mixing in shavings or commercial powdered dashi.
Try this when you want a hearty rice ball. The one in the photo is for two cups of rice.
Rikucho Ogasawara's Onigiri Iron Plate
https://www.shokunin.com/en/rikucho/onigiri.html
Reference (recipe)
https://www.betterhome.jp/onlinebook/3110