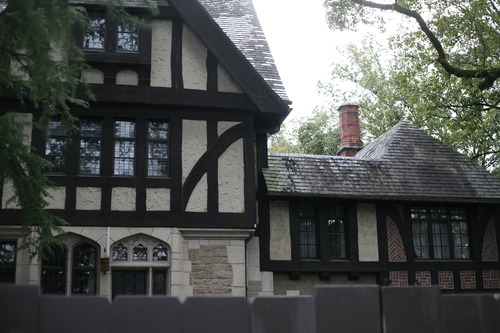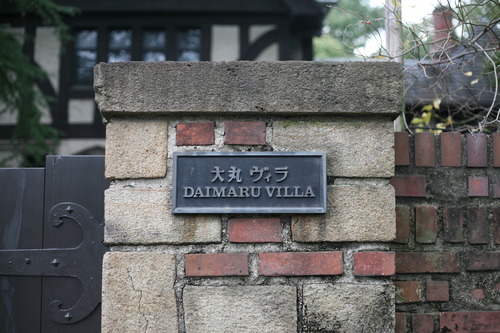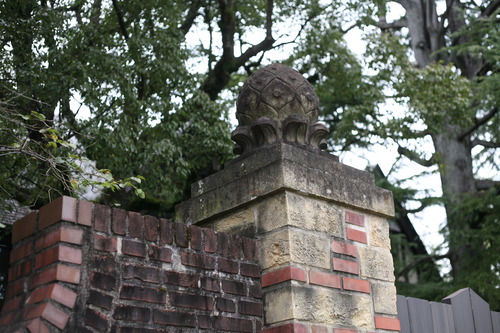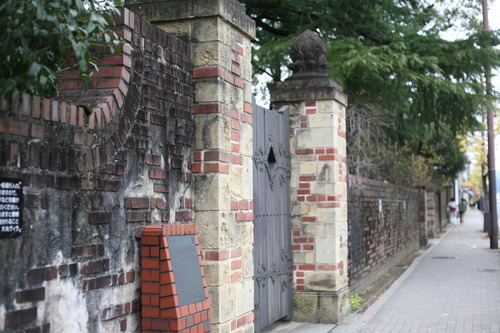 [Daimaru Villa and Modern Architecture in Kyoto]
Just outside the northwest exit of Marutamachi Station on the Kyoto City Subway Karasuma Line, there is a beautiful medieval English-style building that catches the eye behind a brick wall. Daimaru Villa, designated as a registered cultural property by the city of Kyoto, was built in 1932 as the residence of Shotaro Shimomura, the 12th head of the Daimaru Department Store, designed by Vories Architects and constructed by Shimizu Corporation.
Although the building is made of reinforced concrete, it has an impressive appearance due to its distinctive architectural style, in which thick wood is exposed on the surface where the two roofs meet, and the space between them is filled with bricks and plaster. This half-timbered house is said to have been inspired by the Tudor-style appearance of the Liberty Department Store in England.
Unfortunately, it is not open to the public, but just looking at the designs on the gates facing the street and on the walls of the houses, you will feel as if you are touching a part of the overwhelming beauty of the form.
Currently, the Kyoto City Kyocera Museum of Art is holding a large-scale architecture exhibition, "Modern Architecture in Kyoto," where visitors can learn about Kyoto through its architecture. You can see a large number of materials ranging from historically valuable drawings and models to photographs, videos, and furniture. Kyoto is a city with many modern and contemporary architectures, including ancient, Western, modern Japanese, and modernist buildings. We can't help but hope that Kyoto will continue to be a city that realizes a future where buildings of historical value are preserved and utilized, and where technology, culture, and aesthetic sense are passed on.
Daimaru Villa
https://goo.gl/maps/29pUoSKYbd9GbcrY6
Kyoto City Kyocera Museum of Art "Modern Architecture in Kyoto" (September 25, 2021 (Saturday) - December 26, 2021 (Sunday))
https://kyotocity-kyocera.museum/exhibition/20210925-1226
References
https://www.city.kyoto.lg.jp/kamigyo/page/0000012567.html
http://www.kawamura-river.com/event_poster/2021/chudouken.pdf