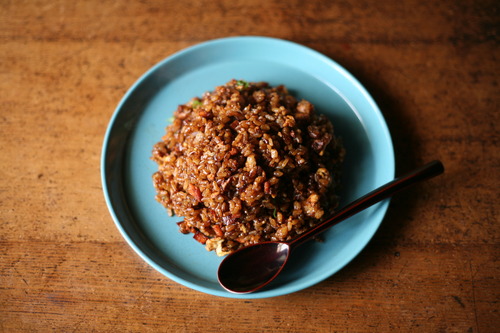 [Black Fried Rice Made with Chinese Dark Soy Sauce]
Recently, we bought some Chinese soy sauce that we had been curious about at an imported food store that opened in our neighborhood. There are two main types of soy sauce in China: the light-colored "shēng chōu," which is used for flavoring, and the dark-colored "lǎo chōu," which is mainly used to add luster and richness to stews and other dishes. The one we bought this time was the lǎo chōu, which is a thicker, darker soy sauce similar to Japanese tamari soy sauce.
Using this lǎo chōu, we tried to make "black fried rice" with its striking black color. Heat a generous amount of lard in an iron pan, let the pan cool on a wet cloth to soak up the oil, then add the eggs and rice, in that order, and mix to loosen everything up. Add finely chopped roasted pork, a little chicken stock and 1 tablespoon of lǎo chōu, add green onions and give it a quick stir. The fried rice made with lǎo chōu was moist and mellow, and the slightly savory aroma made it hard to stop the spoon.
When served on Hasami's Plate, the colors of the plate and black fried rice stand out beautifully and stimulate the appetite. Hasami's Plate, which look like stylish Western tableware, are made on the theme of the popular tableware used in American restaurants in the 1960s. It can be used for any Japanese, Western, or Chinese menu, so please find your favorite color.
Hasami's Plate
https://www.shokunin.com/en/hasami/plate.html
Appi Urushi Studio's Spoon
https://www.shokunin.com/en/appi/spoon.html
Yamada Kogyosho's Uchidashi Katatenabe
https://www.shokunin.com/en/yamada/
Reference
https://www.facebook.com/leekumkeejapan/posts/1617146721674350/