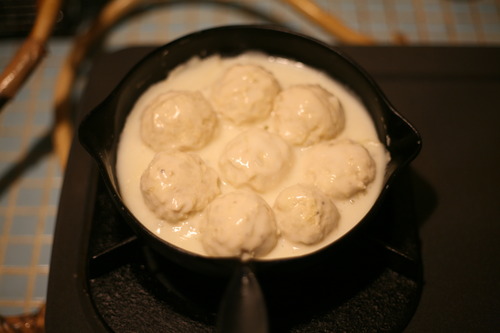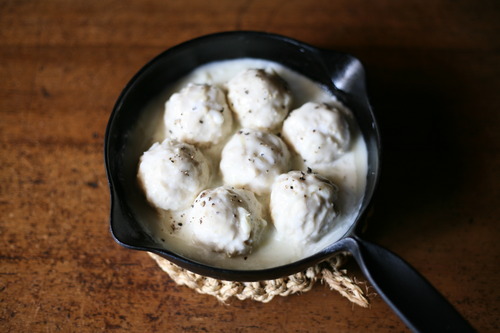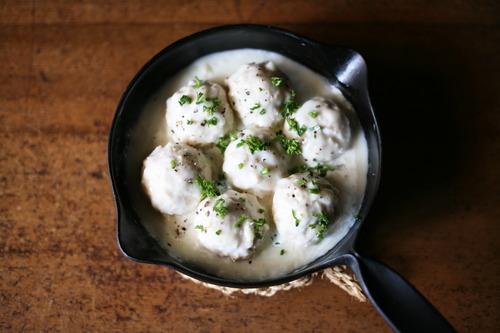 [Swedish Meatballs in Cream Stew]
In Sweden, meatballs called "köttbullar" are a staple of home cooking. In Japan, Swedish meatballs are also served at IKEA restaurants, and we believe more and more people associate Swedish food with meatballs.
A special feature of Swedish meatballs is that the cream sauce is garnished with "lingonberry jam," a sweet and sour cranberry-like jam. In Japan, they are called "kokemomo."
Many recipes call for ground beef and pork, but if you make them with ground chicken, the meatballs will have a distinct white color combined with the cream sauce. Instead of bread crumbs, you can soak torn bread in milk and mix it to make it even softer.
If you cook it in a deep Rikucho Ogasawara's Frying Pan, you can bring it to the table fresh and hot. We hope you will give it a try.
Rikucho Ogasawara's Frying Pan
https://www.shokunin.com/en/rikucho/fryingpan.html
Reference
https://www.lecreuset.co.jp/recipe/recipe/meat_ball_cream/
 (Recipe)