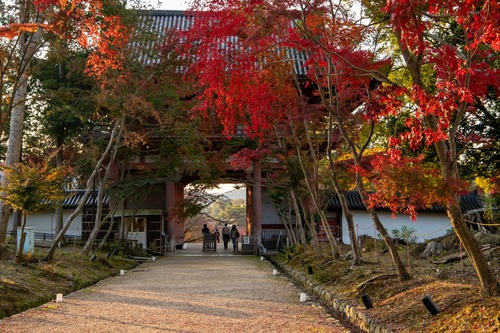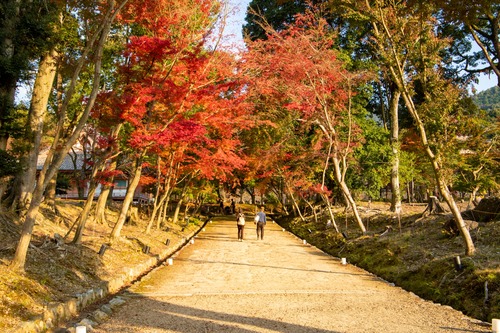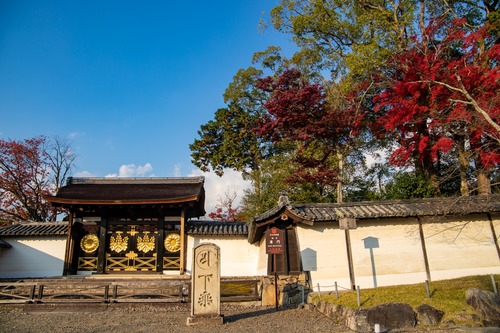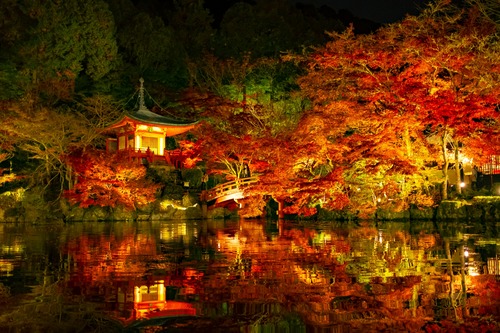 Daigo-ji Temple, the head temple of the Daigo sect of Shingon Buddhism, which has been famous for its cherry blossoms since the Heian period, is also famous for its autumn foliage.
The temple is one of the largest temples in Kyoto, with an area of about 2,000,000 tsubo, and is dotted with many national treasures and scenic spots. The upper ground is called Kami-Daigo, and the lower ground is called Shimo-Daigo. In Shimo-Daigo, there is the Kondo, a national treasure, and the five-story pagoda, the oldest wooden structure in Kyoto. Kami-Daigo, on the other hand, is a place for mountain asceticism where many temples are located from the approach to the peak, and it is recommended that you prepare your equipment as if you are climbing a mountain.
In autumn, Mt. Daigo gradually begins to change its color from the top of the mountain. The maple tunnel along the approach from Niomon Gate and the Sanpo-in Garden, which is said to have been designed by Toyotomi Hideyoshi, are beautiful and delight the eyes of visitors every year. The area around the pond where Kannondo stands is called "Rinsen" and is one of the most beautiful spots for viewing autumn leaves in Shimo-Daigo.
Hideyoshi was looking forward to autumn-leaf viewing after the cherry blossom viewing in Spring at Daigo-ji Temple, but he died in the summer of that year at the age of 62. The autumn leaves in Daigo-ji Temple may be a memento of Hideyoshi's life for future generations.
When the autumn leaves are at their best, the temple is lit up and nighttime viewing is held, so take our goods and relax in the spacious precincts and enjoy the autumn foliage viewing that Hideyoshi was unable to accomplish.
MokuNeji's New Bottle
https://www.shokunin.com/en/mokuneji/bottle.html
Okai Mafu Shoten's Handwoven Linen Handkerchief
https://www.shokunin.com/en/okai/handkerchief.html
SyuRo's Long Wallet and Coin Purse
https://www.shokunin.com/en/syuro/leather.html
References
https://www.daigoji.or.jp/
https://souda-kyoto.jp/guide/season/koyo/?id=0000396
https://travel.mar-ker.com/%E9%86%8D%E9%86%90%E5%AF%BA